Kuch Kuch Hota Hai 25 years: Shah Rukh, Rani Mukerji-Karan Johar surprise fans during special screening
Shah Rukh Khan, Rani Mukerji, and Karan Johar delighted fans during a special screening of the 1998 film Kuch Kuch Hota Hai. See the video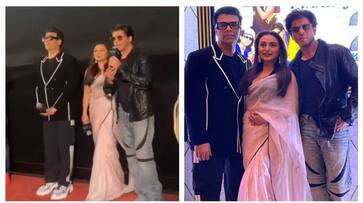 On October 15, the creators of Kuch Kuch Hota Hai re-released the 1998 film to commemorate the 25th anniversary of Shah Rukh Khan, Kajol, and Rani Mukerji's film. The movie directed by one of the most recognised directors, Karan Johar, resonates in everyone's hearts because it depicts love as friendship. Recently, KJo, SRK, and Rani surprised fans by visiting a theatre for a special showing in Mumbai. 
An Instagram video shows Shah Rukh Khan, Rani Mukerji, and Karan Johar making a surprise visit to a Mumbai theatre during a special showing of their superhit film Kuch Kuch Hota Hai. Rahul, nicknamed Shah Rukh, wore a leather jacket and trousers. Tina, nicknamed Rani, sported a lovely light-pink saree, while the director chose an all-black ensemble. People began yelling their names in delight as the trio entered the theatre.
View the video: 
Dharma Productions, on the other side, tweeted a photo of Johar, Shah Rukh, and Rani smiling together at the theatre. They captioned it, "Bohot kuch hota hai seeing them all in one frame!The celebration of pyaar & dosti just got BIGGER & GRANDER for #25YearsOfKuchKuchHotaHai #KuchKuchHotaHai #KKHH #KaranJohar @apoorvamehta18 @iamsrk @itsKajolD #RaniMukerji." Have a look: 
Karan organised three special Kuch Kuch Hota Hai screenings in Mumbai on Sunday night to commemorate the film's 25th anniversary. Karan, too, celebrated 25 years in the profession with the film. Tickets were priced at Rs 25, and Karan set up special photo-op props for moviegoers to use. Several videos on the internet show fans gathered to relive the legendary film and dance to songs from the film. Fans were also joined in their celebrations by SRK, Rani, and Karan. However, due to an outdoor schedule, Kajol could not attend the event.
Many videos were shared on Instagram and fans are praising SRK for his chivalry. "Gentleman hai yeh SRK Deko saree pakdi hui hai rani Mukarjee ki," a fan wrote. "This is king khan things thats why he is the king," added another. "How cute SRK looked holding that sari of Rani," a third wrote. Watch the video below:
About Kuch Kuch Hota Hai
Kuch Kuch Hota Hai is a romantic drama film that depicts the narrative of a convoluted love triangle between three college students, Rahul Khanna (played by SRK), Anjali Sharma (played by Kajol), and Tina Malhotra (played by Rani Mukherji). Salman Khan makes a cameo appearance in the film as Aman Mehra. 
Last Updated Oct 16, 2023, 8:09 AM IST