Koffee With Karan 8: Ranveer Singh, Deepika Padukone set Instagram ablaze with sizzling 'couple' photos
Deepika Padukone and Ranveer Singh are painting the town red with a steamy and crackling chemistry and fun time with filmmaker Karan Johar-hosted popular celebrity chat show Koffee With Karan 8, episode 1 will air on Thursday at midnight.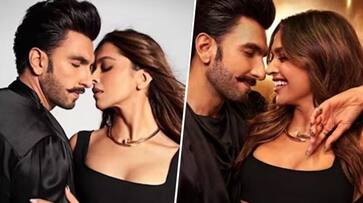 Karan Johar is bringing Deepika Padukone and Ranveer Singh on his famous Koffee Couch in Koffee With Karan 8. The couple, who tied the knot in 2018, will open the latest season of Karan Johar-hosted show on Thursday. The episode will air at midnight. It will be their first-ever joint appearance on the show. Fans are excited to see their banter together. The promo of Ranveer Singh and Deepika Padukone episode is already out. Ranveer has taken to social media to drop stunning photos with Deepika, which will always set the hearts of ardent #DeepVeer fandom aflutter.
ALSO READ: Shraddha Kapoor's Dussehra delight: Red Lamborghini Huracan Tecnica joins her fleet [WATCH]
In the pictures shared by Ranveer, he is seen intimately close to Deepika, their noses touching as they live the moment sensuously, with eyes closed. In another photo, they share a laugh while holding each other closely. Ranveer is dressed in black satin separates with a scarf detail around his neck and sunglasses, while Deepika wears a black bodycon tea-length dress with strategic cutouts. She complements her look with beachy waves in her hair and minimal jewellery. Ranveer tagged wifey dearest Deepika in the caption and added a coffee cup emoji hinting at the episode tonight. Check out the photos here:
The promo aired earlier this week starts with the host Karan Johar introducing Deepika Padukone and Ranveer Singh as the Bollywood royalty. It dropped snippets from the Rapid Fire Round. In the short clip, Karan Johar asks Deepika, "Would you ever consider dating Rocky Randhawa?" Deepika jokingly replies, "I am married to Rocky Randhawa."
It then showed us glimpses of the three dancing with their headphones on. It cuts to Ranveer who says, "Kya hee ho raha hai duniya mein, Karan kaale kapde pehen raha hai. Game pehle aa raha hai. Rapid Fire baad mein ho raha. Kya hi ho raha hai," Karan Johar also asks Deepika, "Besides Ranveer, who do you think you have the best on-screen chemistry with?", Deepika responds, "I think with Hrithik, which everyone would see." Ranveer adds, "Can not wait to see it, yaaraa !."
ALSO READ: Bigg Boss 17: Abhishek Kumar loses his cool; twists ex-girlfriend Isha Malviya's hand
Last Updated Oct 25, 2023, 1:04 PM IST