Kangana Ranaut labels Pakistani, Chinese artists as enemies; says THIS about Bollywood's bond with them
In a recent interview, Kangana Ranaut voiced her disapproval of Bollywood and cricket stars' friendships with artists from China and Pakistan, emphasizing the potential impact on Indian soldiers' morale. She also shared her thoughts on the idea of mandatory military training.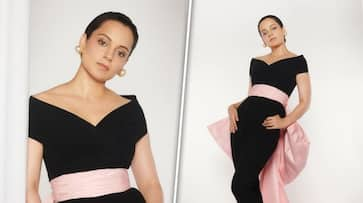 Kangana Ranaut, who is eagerly waiting for her upcoming movie 'Tejas' to come out, has expressed her disapproval of Bollywood stars and cricketers having friendships with artists from China and Pakistan. Without mentioning any names, Kangana pointed out that such relationships might affect the spirits of Indian soldiers. In a recent interview with News 18 she questioned "Our soldiers ask when Bollywood is showcasing its love for the artists of China and Pakistan, cricketers are hugging them, then am I the only one who thinks of them as enemies? Is the animosity between the two countries only for me? This is why we have made Tejas. It showcases how a soldier feels when people of the country talk behind his back while he is fighting at the border."
In addition to this, Kangana has suggested that India should make military training compulsory for all young people after they finish their studies. She believes this would help instill discipline and weed out those who are lazy or irresponsible."We will get rid of these lazy and irresponsible people if military training is made compulsory in the country for every child after graduation. It will inculcate discipline in them,"
Kangana was last seen in 'Chandramukhi 2,' where she played a dancer in the king's court, admired for her beauty and dancing skills, while Raghava Lawrence portrayed King Vettaiyan Raja in this Tamil horror comedy directed by P Vasu. Her next project is 'Tejas,' directed by Sarbesh Mevara, which is inspired by the life of Indian Air Force pilot Tejas Gill. The film aims to inspire a deep sense of pride in the brave soldiers who work tirelessly to defend our nation despite facing numerous challenges. 'Tejas' is scheduled to be released on October 27.
Kangana also has 'Emergency' in her list of upcoming films. In this movie, she plays the role of former Indian Prime Minister Indira Gandhi, and it is set to hit the screens in November 2023. The film also features Anupam Kher, Shreyas Talpade, Vishak Nair, Bhumika Chawla, Mahima Chaudhary, Milind Soman, and Satish Kaushik.
ALSO READ: 'Sam Bahadur' poster OUT: Witness Vicky Kaushal in a never-seen-before rugged avatar
Last Updated Oct 12, 2023, 12:31 PM IST