Jawan: Shah Rukh Khan's posters decorated with flower garlands in Chennai; superstar's film gets warm welcome
After a long wait, Shah Rukh Khan and Nayanthara-led much-awaited pan-Indian action-thriller film Jawan has released today in India. Creating more craze and showing more power of SRK fandom, the posters of SRK got decorated with flower garlands in Chennai as his film got a warm welcome in Chennai.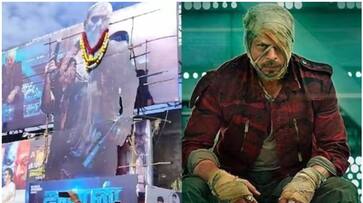 Amid much wait and anticipation, Shah Rukh Khan-led pan-India actioner-thriller extravaganza film Jawan, helmed by maverick South filmmaker Atlee Kumar, was released worldwide on September 7, today. While we wait for the reviews to pour in, the craze of SRK fandom in the country is unprecedented. One such example is the Rohini Theatre, Chennai. Considered the den of Rajnikanth fans, the theatre got crowded in no time, but this time for King Khan.
ALSO READ: Sukhee trailer OUT: Shilpa Shetty marks her comeback alongside Amit Sadh in Sonal Joshi directorial
An X user named Rocky Bhai shared a picture outside the Rohini theatre, capturing a gigantic and massive SRK poster with garlands around the neck. Just below, a crowd of eager fans were swarming in to get inside the movie theatre. The post by the user was captioned, "CRAZE FOR SRK IN SOUTH INDIA 🔥 Chennai - Rohini Cinemas 👏 King of Indian Cinema 💣😳💥 #Jawan #Jawanfdfs #JawanFirstDayFirstShow."
For the unversed, Rohini Theatre is a famous cinema hall located in Chennai, India. It holds a special place in the hearts of residents in Chennai and is known for its historical significance in the entertainment scene. Rohini Theatre is particularly renowned for screening Tamil movies and has been a hub for film enthusiasts for many decades, especially for films by Rajinikanth. It has witnessed the premiere of numerous blockbuster Tamil films and remains a popular destination for moviegoers in Chennai.
Meanwhile, the moment has finally arrived! Shah Rukh Khan-led pan-Indian action-thriller film 'Jawan' has made its grand debut in theatres, and the excitement and zealousness among fans has reached an all-time high. Today, on September 7, the film graced the silver screen, drawing massive crowds and sparking jubilant celebrations as eager moviegoers rushed to catch the crack-of-dawn 6 a.m. screenings. Yes, you read that correctly. Social media is currently ablaze with videos showcasing exuberant gatherings outside cinema halls as enthusiastic fans gather for the very first show of the day, overflowing with anticipation.
ALSO READ: Akshay Kumar shines spotlight on Bharat with title change for 'Mission Raniganj'; Motion Poster released
Last Updated Sep 7, 2023, 12:24 PM IST