Jawan: Advance booking finally starts in India; Shah Rukh Khan says 'something there for everybody'
Jawan: Advance bookings for the film opens at 10 AM today. The much-anticipated action-packed thriller is supposed to release at theatres on 7th September. The trailer hinted at a double role by Shah Rukh Khan. Fan excitement reaches next level---by Amrita Ghosh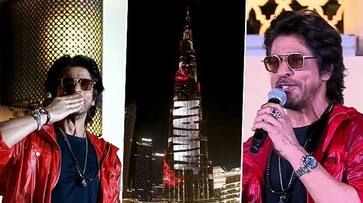 The 'Jawan' excitement has reached it pinnacle as advance bookings for tickets open today. The much-anticipated Shah Rukh Khan movie is releasing on the 7th of September. Yesterday, the trailer was premiered at the iconic Burj Khalifa in a grand event that was attended by Shah Rukh himself. 
This spectacular trailer launch has elevated the anticipation to new heights, paving the way for the opening of the advance booking window for "Jawan." Fans need not wait any longer, as the opportunity has arrived for them to secure their seats for this cinematic extravaganza.
Enthusiastic fan clubs devoted to Shah Rukh Khan have already orchestrated nationwide celebrations in anticipation of the advance booking launch. The fervor and enthusiasm are palpable as fans gear up to reserve their tickets for what promises to be an adrenaline-pumping cinematic ride.
ALSO READ: Ram Kapoor turns 50: 'Neeyat' star inspires fans with his weight loss journey; sheds 30 kgs
Starting from 10 AM today, the advance booking windows for "Jawan" are now open across the nation. Admirers from every corner of the country have been eagerly counting down the days since the release of the gripping preview, and they can finally fulfill their desire by reserving their spots for this action-packed spectacle.
With the extraordinary buzz and frenzy surrounding the film, it's apparent that the box office is on the cusp of an unprecedented storm. It's only a matter of time before records are shattered, and history is rewritten.
ALSO READ: Jawan trailer at Burj Khalifa: Shah Rukh Khan's witty response to fan booking an entire restaurant to meet him
Directed by Atlee and presented by Red Chillies Entertainment, "Jawan" is a cinematic venture produced by Gauri Khan and co-produced by Gaurav Verma. Mark your calendars, as this epic movie is set to hit theaters worldwide on September 7th, 2023, offering audiences a thrilling experience in Hindi, Tamil, and Telugu languages.
Last Updated Sep 1, 2023, 10:59 AM IST