Jacqueline Fernandez wishes to have sequel for this movie - Watch
Jacqueline Fernandez, renowned Bollywood actress, expressing love for one of her film, revealed her desire for its sequel during an interview.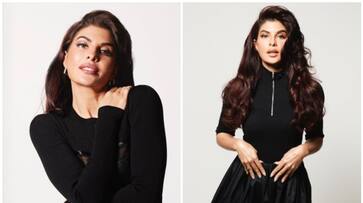 Bollywood actress Jacqueline Fernandez with her remarkable acting and charm is the epitome of glamour. She is known for featuring in many films like Race, Kick, Brothers. While having a conversation with Spice Social instagram page, Jacqueline expressed that she wants to have a sequel for her movie "Dishoom."
In a candid chat with Spice Social Jaqueline was asked about her hobbies, interests, likings and fitness secret. On being asked about "a movie she wished had a sequel", Jacqueline replied, "Dishoom has a sequel, because was had a lot of fun shooting for that and I feel there is so much more than that story that could tell." 
Dishoom is a 2016, cop action film, directed by Rohit Dhawan starring Varun Dhawan and John Abraham along with Jacqueline Fernandez. In the movie Jacqueline played the role of Ishika, a pick pocketer. Her bubbly character added a fun element and cheerfulness to this action thriller.
In the interview Jacqueline was also asked how she would describe her relationship with the world of movies in one word, to which she replied, "Ancient...It goes way, way, way back, ever since I was a little girl." Her reply to this question indicates that she has always been passionate about acting.
On the work front Jacqueline Fernandez was currently in the news as she announced her collaboration with famous Hollywood actor Jean Claude van Damme for an upcoming movie. She is also shooting for another upcoming movie "Fateh" with Bollywood actor Sonu Sood. 
ALSO READ: 'AI se better lagte ho': Fans applaud legend Amitabh Bachchan for posting artificial intelligence snap
Last Updated Oct 31, 2023, 3:35 PM IST