Is Samantha Akkineni blessed with two mothers-in-law?
Samantha Akkineni shares a cordial relationship with her father in-law Nagarjuna and mother-in-law Amala. However, Amala is her stepmother-in-law. Her husband was born to her father in-law Nagarjuna and Lakshmi Daggubatti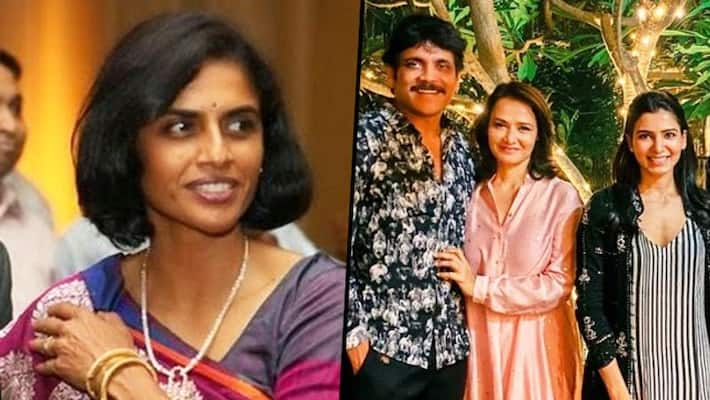 Be it in films or real life, the universal problem of daughters-in-law and mothers-in-law exists. While some manage to stay together, some break away to form a nuclear family.
However, in the case of Samantha she not only manages relationships in the Akkineni family well, she also shares a cordial relationship with two mothers-in-law.
While her stepmother-in-law Amala heaped praises on Samantha and called her a good girl in one of her interviews, Samantha was reportedly quoted speaking of the good qualities of her husband's biological mother Lakshmi Daggubati.
While Amala found solace in rescuing and caring for stray animals in Hyderabad, Lakshmi became a successful entrepreneur. Samantha treats them with equal respect.
Lakshmi Daggubati and Nagarjuna are childhood friends. Their parents Nageshwara Rao and Ramanaidu Daggubati, also good friends, got them married to cement a family relationship.
However, four years after the birth of Naga Chaitanya, in 1990, the couple parted ways due to incompatibility. Although, they have maintained a cordial relationship for the sake of their son.
Nagarjuna later proposed to his co-star Amala and they got married in 1992. Two years later, Amala gave birth to Akhil Akkineni. The couple has always ensured the brothers bonded well and maintained a good relationship with each other.
The Akkineni family, being aware of this obviously, continue in the same spirit of keeping their relationships cordial and peaceful, even with Lakshmi Daggubati. 
Last Updated Jul 25, 2020, 1:57 PM IST