Indian fans enjoy Demi Lovato's chat with Sadhguru about aliens, spirituality (Watch video)
Demi Lovato engaged in an intellectual conversation with Sadhguru on the latest episode of their podcast, 4D with Demi Lovato.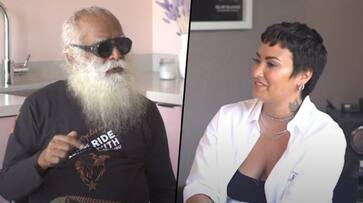 Singer Demi Lovato hosted spiritual leader Sadhguru on the latest episode of 4D with Demi Lovato. The duo touched various subjects during their mindful conversation, from building a conscious planet to alien life.
Sharing the details about the new episode, Demi Lovato wrote on Instagram that Sadhguru is a mystic and visionary whose wisdom could help in building a conscious planet. Urging fans to join her this week with the hashtag 4DwithDemi, Lovato said that she and Sadhguru would exchange notes on expanding consciousness.
Sadhguru will also be sharing details of his spiritual journey. Sadhguru, too, shared a snippet from the conversation on Instagram.
Sadhguru said that he and the singer-songwriter discussed many dimensions of life, including motorcycles, working joyfully, the difference between mystics and mistakes, and the need for a conscious planet.
Indian fans were delighted  to see both have such a great conversation. The YouTube section of the video is filled with love and appreciation for the two, especially from their fans from India. One of the fans wrote, "Omggg lot's of love from India."
Demi is not the first Hollywood celebrity who has interacted with Sadhguru online. Many Hollywood celebs, as such Will Smith and his daughter Willow, met him and shared their experience on the internet. Sadhguru is a spiritual leader who wins immense support and love from his followers all over the world and even from the Hollywood and Bollywood industry.
Take a look at the video:
 
Last Updated Aug 6, 2021, 12:13 PM IST