Here's why Bengalis are unhappy with Badshah and Jacqueline Fernandez's Genda Phool track
Singers Badshah and Payal Dev's new song Genda Phool lands them in trouble for copyright issues, read on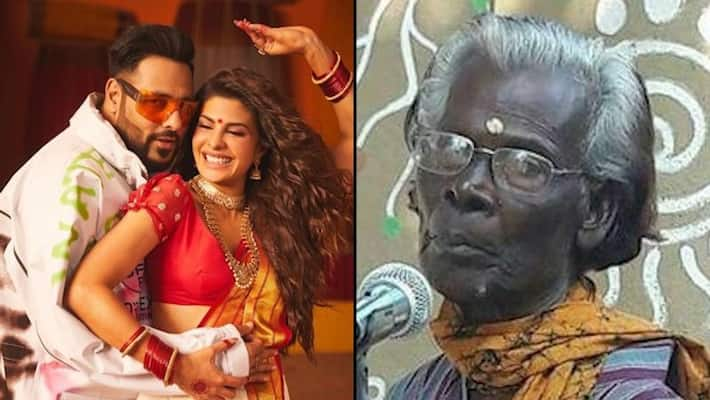 Badshah, Jacqueline Fernandez and Payal Dev's new track Genda Phool faces plagiarism allegations. Since the release of the song, many started commenting and tweeting that the Bengali lines in the track are from Bengali folk song written by Ratan Kahar.
Ratan Kahar is a folk singer living in the Birbhum district of West Bengal who wrote and sang the song in 1972.
In the song, Jacqueline Fernandez is seen dressed like a Bengali woman, and dancing for "Borlok er Bitilo, lomba lomba chul.....lal genda phool", which is from the original folk song Borloker Bitilo. 
This Bengali folk song, which was originally written by Ratan Kahar, was not given credit in Badshah's music video, which has violated the Indian Copyright Amendment Act 2012. 
Arghya Bose, a doctoral researcher in France wrote to West Bengal chief minister Mamata Banerjee, "In the capacity of a common but responsible citizen of your state, Madam Chief Minister, I feel obliged and responsible to bring to your notice an exploitation of the poor artists of the state of West Bengal at this level by apparently world renowned artists. It is, indeed, the moral responsibility of the entire population of the state, and more so, the government of the state to protect the interests of the artistic communities of our country." 
She added, "Your government has always shown sensitivity, empathy and appreciativeness to the rich intellectual and cultural diversity of Bengal, which has been one of the many foundations of the popularity of your government. I write this mail to you hoping that you will be able to act in favour of Mr Kahar in this regard, and obtain for him the intellectual and material remuneration that is due to him."
Not just him, musician Rohan Dasgupta took to Twitter to spread the news and tagged many journalists to give justice to the poor singer. He tweeted, "This is RATAN KAHAR, a folk artist from Bengal. GENDA PHOOL is RATAN KAHAR's song from the 70s & is extremely popular amongst Bengalis. Sadly he doesn't have the money to sue Badshah who claims that the lyrics/music is by him. But you have the power to spread the truth. Use it." (SIC)
Last year, Badshah's Don't Be Shy from Ayushmann Khurrana's Bala made headlines for the same. He allegedly remade the song without the rights being bought. 
Badshah clarified to a news portal: "We made a song called Don't Be Shy in Bala. And thank god I got this platform to clarify. Dr Zeus who is the original maker of 'Don't Be Shy' was pissed. But I, as a musician would never touch a song. I was under the perception that everything (the rights) has been taken care of. Because this has happened to me. My song Wakhra Swag was remade without my knowledge. I was hurt."
Last Updated Mar 31, 2020, 1:27 PM IST