Here is Nikhil Kumaraswamy's first reaction after Mandya defeat
Nikhil Kumaraswamy wished well for Sumalatha, and Abhishek, whose film is all set for release on May 31. Here is what he has to say about his defeat in Mandya Lok Sabha poll

Bengaluru: Karnataka chief minister HD Kumaraswamy's son Nikhil had not come in front of the media after his defeat in Mandya Lok Sabha election. Now, after seven days of announcing of results, Nikhil opened up on Instagram and wished his opponent Sumalatha.
Nikhil's account had two posts, one wishing Ambareesh on his birthday (May 29), and another wishing Ambareesh-Sumalatha's son Abhishek all the best on the release of his debut film Amar. The movie is all set for release on May 31.
Speaking about Ambareesh, Nikhil stated, "Happy birthday Ambareesh Anna, let ur soul rest in peace, have had some wonderful memories with u with utmost respect n love, I do fall short of words though thr is a lot to express, all I wanna say is v all miss u (sic)."
Nikhil also congratulated Sumalatha on her win and said that he will extend any help for the people of Mandya, if they need him.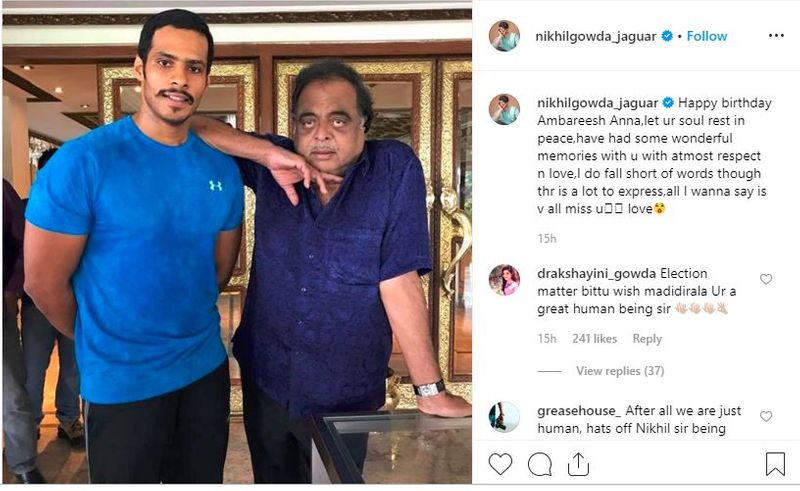 "Here is wishing my brother Abhi great success for his debut movie AMAR which is releasing tomorrow, pls do go to the theatres n watch the movie I'm sure he would have pulled it off well🤗 if ppl think this is a just social gesturing by me all I want to tell u guys is I value relationships more than anything else (sic)."
Speaking about his defeat, Nikhil said, "this election result complete responsibility is held by only Nikhil Kumaraswamy, if anyone to b blamed on this result is only ME not my MLA's not my MLC's nor my karyakarthas nor the CM nor our JDS supremo shri Devegowdaji, in fact I apologise to all my karyakarthas for having disappointed a lot of thm coz ppl have simply rejected Nikhil Kumaraswamy not anyone else (sic)," he wrote.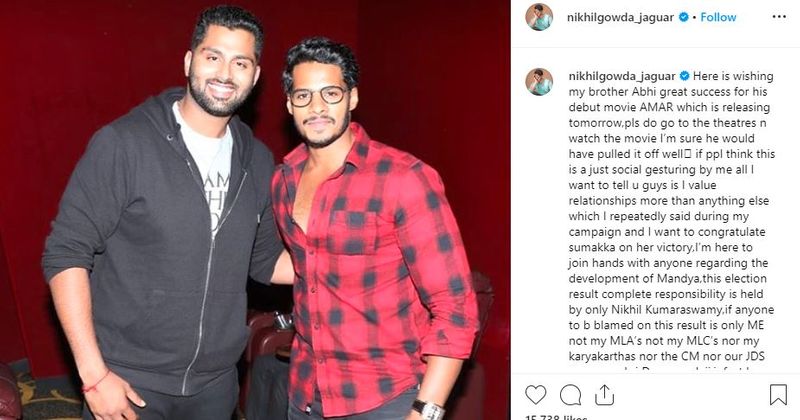 He further said that, "our honourable CM has issued around 8,671 crores to the Mandya district on this year's budget n I wil make sure these works wud meet a logical end bcoz this is our duty for the wellness of our Mandya district (sic)."
Thanking the people who voted for him, Nikhil also said that "(I) wil try to earn ur respect in the upcoming days (sic)."
For those who are doubting if Nikhil can be taken as a serious politician, he said, "I wil b touring all the districts across d state n try to understand the issues n motivate my party karyakarthas at the same time, a detailed press meet wil b held soon n a day or two (sic)."
Last Updated May 30, 2019, 4:12 PM IST