Happy Birthday KK: Celebrating late legendary singer's birthday through his iconic songs
Celebrate legendary singer KK's birth anniversary with a tribute to his versatile voice & iconic songs. From soulful "Tadap Tadap" to romantic "Tum Hi Ho," explore 5 timeless tracks that define KK's musical brilliance. His legacy lives on through his emotive melodies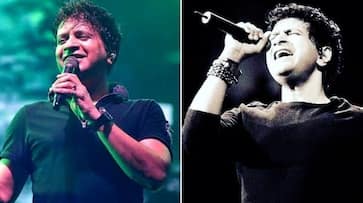 On this auspicious day, we gather to celebrate the birth anniversary of the legendary Indian playback singer, KK. Known for his soulful voice and unparalleled musical versatility, KK left an indelible mark on the Indian music industry. This article pays tribute to this musical maestro by highlighting five remarkable facts about him and delving into the beauty of five of his best songs.
5 Fascinating Facts about KK
Early Life and Name Change: Born as Krishnakumar Kunnath on August 23, 1968, in Delhi, KK ventured into the music world with the intent of becoming a singer. He adopted the stage name "KK" to avoid confusion with another popular playback singer.

A Versatile Voice: KK's vocal range and versatility allowed him to seamlessly transition between various musical genres, including pop, rock, romantic, and soulful melodies. His ability to emote through his voice touched the hearts of millions.

Journey to Fame: KK's breakthrough came with the song "Tadap Tadap" from the movie "Hum Dil De Chuke Sanam" (1999). This poignant rendition showcased his ability to convey deep emotions through his singing. Following this, he gained widespread recognition and never looked back. 

Awards and Accolades: The Indian music industry honored KK with several awards, including the Filmfare Award for Best Male Playback Singer for the chartbuster "Tum Hi Ho" from "Aashiqui 2" (2013). His contribution to music was further acknowledged with numerous nominations and accolades.

Independent Ventures: Apart from playback singing, KK explored his creativity by releasing independent albums. His album "Pal" (1999) received immense appreciation, establishing him as a talented artist beyond playback singing.
5 Timeless Songs by KK
Tadap Tadap: KK's rendition of "Tadap Tadap" showcased his ability to infuse raw emotions into a song. The pain and longing in his voice perfectly complemented the heart-wrenching lyrics, making it an unforgettable track.

Tum Hi Ho: The soul-stirring track "Tum Hi Ho" from "Aashiqui 2" became an anthem of love. KK's voice breathed life into the song, capturing the essence of romance and making it an instant hit. 

Zara Sa: "Zara Sa" from the movie "Jannat" (2008) exemplifies KK's ability to lend a youthful and energetic touch to a song. His dynamic vocals elevated the song's intensity, making it a favorite among the youth. 

Ajab Si: KK's mesmerizing rendition of "Ajab Si" from "Om Shanti Om" (2007) showcased his finesse in capturing the dreamy and romantic aspect of music. The song's catchy tune combined with KK's evocative singing made it a memorable track. 

Yaaron: In the song "Yaaron" from his album "Pal," KK's expressive voice beautifully conveyed the sentiments of friendship and nostalgia. The track became an anthem for companionship and struck a chord with listeners. 
As we commemorate KK's birth anniversary, his legacy continues to resonate through his remarkable music. His ability to seamlessly traverse genres and evoke emotions through his voice remains unparalleled. The five iconic songs discussed in this article are a testament to his musical prowess and his eternal place in the hearts of music enthusiasts. KK's journey reminds us of the power of music to connect, heal, and uplift, making him a true legend in the world of Indian music.
Last Updated Aug 23, 2023, 11:28 AM IST