Halloween: Hailey Bieber, Justin Bieber's The Flintstones theme party is a hit (Photos)
Hailey Bieber honours The Flintstones with her husband Justin at a star-studded celebration, adopting a Halloween theme while donning Pebbles and Bamm-Bamm costumes.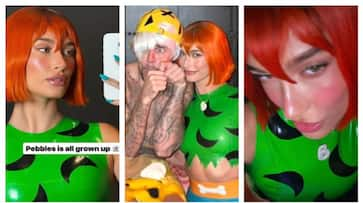 At a recent Halloween party, Hailey and Justin Bieber showed off their The Flintstones costumes. They wore funny outfits inspired by Pebbles and Bamm-Bamm. Hailey and Justin paid homage to the classic comedy The Flintstones for the occasion when they recently visited Vas J. Morgan and Michael Braun's Halloween party in Los Angeles, California. 
The pop artist was seen attending the event dressed as Bamm-Bamm Rubble while the model wore the Pebbles Flintstone costume. Pebbles and Bamm-Bamm, for those who don't know, were childhood best friends who grew up, fell in love, and finally married.
Hailey paired a blue miniskirt and a sleeveless crop top with a green Pebbles motif, accessorising her red bob-cut hairdo. Her B bubble necklace, which she frequently wears, finished off the ensemble. She had customised it, perhaps since both her married and maiden last names began with B. Conversely, Justin wore an orange animal print shirt around his waist and wore no shirts to the party.
Reactions from fans to Hailey and Justin Bieber's Halloween outfits
To complete the ensemble, he added a yellow hat with shapes worn backward. On social media, followers were making comments about their party attire. 
One user said, "They look cute [crying face emoji] [red heart emoji]." Another wrote, "actually iconic." A third felt, "Not many do Flintstones esp Bamm Bamm Rubble and Pebbles Flintstone They got married and had kids tog as well. So glad that Justin and Hailey Bieber dressed up as them for 1 of Halloween looks.
The user added, "They look as precious as them. Hope we get more pics of them as The Flinstone Rubble!" Justin, meanwhile, went to another Halloween party alone himself before making an appearance with her. He wore flippers and a snorkel mask with a printed pink shirt and shorts. 
However, a few days ago, Hailey shared a photo dump from October that featured a corset look reminiscent of a vampire.
Regarding work, Hailey just introduced her newest Rhode product, which are four-shade peptide lip tints. While attending Paris Fashion Week in France, she celebrated the debut. According to reports, Justin is working on his next album, and fans can't wait to hear what new songs the pop singer will produce. Justice, his most recent album, was released in 2021.
Last Updated Oct 30, 2023, 10:41 AM IST