Fukrey 3 trailer: Witness Richa Chadha's 'Bholi Punjaban' fighting elections with 'OG' gang in hilarious film
The 'OG' gang of Pulkit Samrat as Hunny, Manjot Singh as Lali Halwai, and Varun Sharma as Choocha, who deal with Richa Chadha's Bholi Punjaban, are back on screens to tickle the funny bone of audiences and fans with the much-awaited sequel in the Fukrey franchise, Fukrey 3. The trailer was unveiled by the makers yesterday.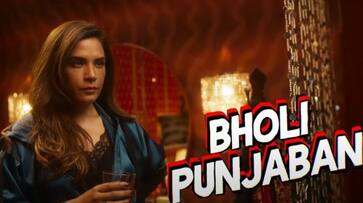 Six years after the second instalment in the comedy film franchise, Fukrey 3 is finally ready to hit the big screens. The Fukrey 3 trailer brought back the quirky group of Pulkit Samrat as Hunny, Manjot Singh as Lali Halwai, Varun Sharma as Choocha, who deal with Richa Chadha's Bholi Punjaban under the expert astrological guidance of Pankaj Tripathi's Panditji.
The release of the trailer for Fukrey 3 brought back fond memories of this beloved comedy franchise. Seeing the Fukra gang, Hunny, Choochaa, Lali, Bholi Punjaban, and Pandit Ji back on the screens is truly a delight. The superb trailer is filled with giggles and laughable moments, ensuring that the film will be very entertaining with a mix of compelling storyline, drama, action, comedy, and bangon dialogues with remarkable performances and funny punches throughout. Fukrey 3 promises to surpass the previous instalments, offering even more gags, laughs and enjoyment. Besides, Choochaa's unexpected surprise gift in this film surely will make audiences and cinephiles burst into peals of laughter constantly, adding more thrill to the excitement. The film is slated for release in theatres on December 1, 2023.
ALSO READ: Parineeti Chopra, Raghav Chadha wedding date OUT: The couple to get married in Udaipur on THIS date
The trailer easily blends all the elements but does not give much away, adding more intrigue and piquing fans' curiosity to watch the film in the theatres. It effectively carries forward the legacy of this beloved comedy franchise. It is truly satisfying to witness this film transform into a big trend in the comedy genre. With sequels making waves at the box office, now is the perfect time for Fukrey 3 to make its mark and surpass all records upon its release.
Excel Entertainment, co-founded by Ritesh Sidhwani and Farhan Akhtar, has time and again served audiences with several blockbusters and iconic films such as Zindagi Na Milegi Dobara, Dil Chahta Hai, and many more.
Trailer
The much-awaited trailer for Fukrey 3 is out now. You can also watch it here.
The trailer has created waves by getting rave reviews and accolades from fans and netizens on Twitter. They all are so excited to watch the movie in theatres.
"The #Fukrey3 trailer is wholesome vibe. The casting looks superb, with charming and entertaining faces. I can not wait for the movie now. #Choocha #Hunny are love," said a fan.
"Is bar fukrey 3, mein triple dhamal hone wala hai main to sach mein bahut hi jyada excited hun is movie ko dekhne ke liye #Fukrey3," said another user.
"#Fukrey3 coming back a great news for all the entertainment lovers," a fan noted.
ALSO READ: India to Bharat: After Amitabh Bachchan, Kangana Ranaut and Jackie Shroff react to ongoing debate
Last Updated Sep 6, 2023, 9:51 AM IST