Flashback Friday: When Aishwarya Rai embarrassed father-in-law Amitabh Bachchan in public
A video of 2016 is going viral in which Amitabh Bachchan is seen asking Aishwarya Rai Bachchan to stop behaving like Aaradhya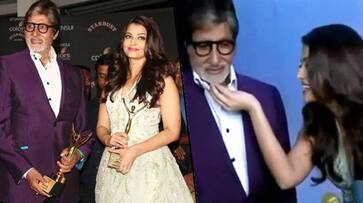 Since last (Wednesday) night, a video clip has gone viral from an event where we can see Amitabh Bachchan and Aishwarya Rai talking to media after receiving awards. In the video, we can see Big B sharing his excitement. On the other hand, Aishwarya was seen so excited that she was laughing around, kissing and hugging her father-in-law while he was talking to media.
To this, Amitabh retorted, 'Stop behaving like Aaradhya' to Aishwariya which made all burst out in laughter. Aishwarya also smiled and hugged Big B saying you know and screamed pointing at Amitabh stating, "He is the best..."
Amitabh and Aishwarya were also asked about the award they won. They were also asked about Aaradhya's reaction and how they have 4 creative heads in their house.
To this, Amitabh corrected the journo saying, "Actually you are mistaken, there are 5 artistes in our house, you forgot my father (legendary poet Harivansh Rai Bachchan) and 6, the one who's on the way (referring to Aaradhya)."
Check out the video here
Aishwarya Rai will be soon seen shooting for Mani Ratnam's next. The movie will be a historical drama based on Ponniyin Selvan, a Tamil novel by writer Kalki. The historical film will showcase the life of Chola Emperor Arulmozhi.
Last Updated May 18, 2020, 12:56 PM IST