Has Milind Soman undergone CT Scan? All is well? Netizens get worried
Milind Soman took to Instagram to notify fans and followers that he had a CT scan to check for blockages or other ailments.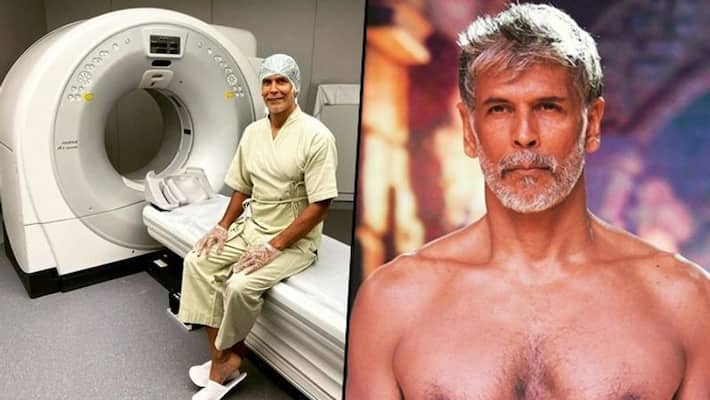 Actor and fitness enthusiast Milind Soman has always encouraged his fans to take health seriously. He repeatedly demonstrated that he takes his health and lifestyle on priority and often shares glimpses of his workouts and active lifestyle.
Milind, who is 55 years old is reasonably fit for his age. His mother Usha Soman, who is 81 is the oldest woman, is also very fit and has recently completed the Sandakphu trek.
Today, he took to Instagram to inform fans that he had a CT scan to check for blockages or other illnesses. He also added that he wanted to check underlying ailments, but everything is normal.
Milind shared a picture wearing a hospital dress as well as a cover on his head. He wrote, "Had a CT Scan at @nurahealthscreeningindia in Bengaluru, checked for blockages, etc. All normal. Regular screenings are important, but what you do between screenings is even more important! Regular good habits with food, exercise, sleep and stress management can help ensure that every screening shows normal body function, whatever your age."
Milind and his wife Ankita Konwar lately took part in the Unity Run where they ram 400 Kms from Shivaji Park in Mumbai to Statue of Unity in Gujarat. 
He also shared a picture with Ankita, writing, "Thank you @ankita_earthy for being you and you have become such a good runner!!!!! More power!! I love you (sic)."
On Ankita's birthday, the couple ran 30 KMs. Ankita, who had turned 30, also did 30 Surya Namaskars to ring on her birthday.
He wrote, "Happy birthday shonuuu !!!! Am so proud of you for sticking to your plan of running 30km and doing 30 suryanamaskars today for your 30th birthday, inspite of the heat and humidity. This is the first time I have crewed for someone and it was so good to see your consistency and pace and effortless run. its almost 8 years since we met and every year seems more warm and beautiful and amazing than the last. Love you for the incredible woman that you are."
Last Updated Sep 5, 2021, 5:17 PM IST