Dawshom Awbotaar trailer out: Srijit Mukherji's highly-anticipated cop universe thriller to captivate audience
The trailer for Srijit Mukherji's eagerly awaited cop universe thriller "Dawshom Awbotaar" debuted today. The film promises to provide viewers with an intriguing and enigmatic cinematic experience.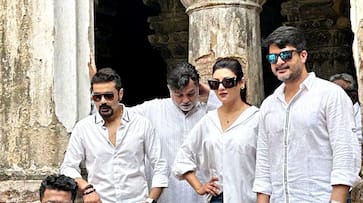 The trailer begins with a terrifying scenario that establishes the mood for the much-awaited movie, which is set against the backdrop of bright and mysterious Kolkata. The observer is taken to a stairway with low lighting. Each slow step of the lone figure ascending the stairs reverberates menacingly in the stillness.
As we follow the rise, the camera catches the tension-building aspect of the situation. Prabir Das, played by seasoned actor Prosenjit Chatterjee, is introduced in the trailer. Once more, Das is seen on the hunt for answers to a puzzling murder mystery, where a serial killer is leaving behind figurative clues that test both his wits and determination. Anirban Bhattacharya's portrayal of Bijoy Poddar joining Prabir in the probe adds another mystery layer.
Prequel to Srijit's two previous blockbusters, "Baishe Srabon" and "Vinci Da," "Dawshom Awbotaar" reunites the two cop leads from the two films: Prabir Roy Chowdhury (Prosenjit Chatterjee in "Baishe Srabon") and Bijoy Poddar (Anirban Bhattacharya in "Vinci Da"), both of whom are played by actors. The complexity of the case is hinted at by this unanticipated cooperation between the two characters, which also promises exciting on-screen chemistry between the performers.
The clip displays a compelling story together with eye-catching visuals and Srijit Mukherji's distinctive directing style. The movie will probably have the audience on the edge of their seats. Moreover, Anirban's appearance in the teaser is similar to that of his character Khoka in "Dwitiyo Purush" while Prosenjit is sporting the recognisable French-cut beard of Prabir Roy Chowdhury.
When his character Bijoy orders "chicken chowmein and chilli fish" for lunch, it raises the question of whether the events of Srijit's 2020 thriller "Dwitiyo Purush" will be influenced by "Dawshom Awbotaar." On social media, the trailer has caused a frenzy, with moviegoers and fans analysing each frame and cue in an effort to solve the spy thriller's riddle. On October 19, "Dawshom Awbotaar" is set to release in theatres.
Last Updated Sep 24, 2023, 4:57 PM IST