Darshan-Vijayalakshmi rift: Don't break families, says Mandya MP Sumalatha
Speaking after the memorial service (9th month) of Ambareesh, MP Sumalatha asked people and media not to spread rumours that would result in breaking homes and families. She also said that her son Abhishek will not join politics.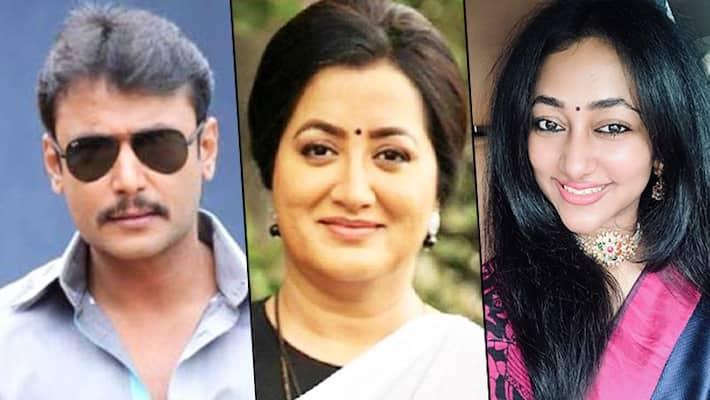 Bengaluru: The recent news of rift between Sandalwood's power couple Darshan and Vijayalakshmi has left actress-turned-Mandya MP Sumalatha Ambareesh disgusted with people's attitude.
There was news that all is not well between Darshan and Vijayalakshmi as rumour of Darshan beating up his wife was making rounds again.
But neither Darshan nor Vijayalskmi has commented or reacted on the same. But recently, after Varamahalakshmi festival, Vijayalakshmi removed Darshan from her name on her Twitter handle. Currently her Twitter account reads Vijayalakshmi.
Following this, journalist Ravi Belegere also slammed Darshan for illtreating his wife.
When Sumalatha was asked about these reports after she paid homage to her husband Ambareesh on the occasion ninth months of his passing away, she asked people and media not to spread rumours.
Speaking on the occasion, she told that she has not seen any video (of Darshan beating up Vijayalakshmi). "These kinds of rumours flow without any base. I don't give importance to such news. People create rumours purposely if we start giving explanation to each and everything. Some people try to gain popularity through these rumours. All I want to tell is please do not spread such rumours. It is wrong. Do not do anything that will break a house and family." she said.
When asked about son Abhishek's entry in politics, she asked the media not to drag his name into politics as he is busy with movies and wants to make a name in the entertainment field.
Last Updated Aug 25, 2019, 5:53 PM IST