Coronavirus challenge: Can Arjun Kapoor do what Malaika Arora does to remain ageless?
Malaika Arora's workout sessions are always mind blowing. No wonder, she defies age. But, the question is if Arjun Kapoor too will be inspired to hit the gym because of her.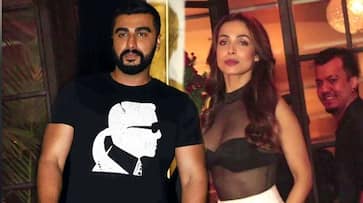 To beat the lockdown, many celebrities are posting videos of what they do. But it becomes special only when Malaika Arora does something.
Be it her divorce, meeting Arjun Kapoor, meeting her son or her kitchen videos, they all turn out to be special. Now, she has released her latest fitness videos, which are obviously not for the weak hearts.
Will her new boyfriend Arjun Kapoor too take up the fitness challenge to remain ageless?
The actress is living in an upscale apartment and had posted sun kissed photos of her. Her throw back video where she is seen pushing Siddarth Shukla indicates that she is strong and Arjun cannot take her lightly.
Last Updated May 2, 2020, 2:42 PM IST