Changure Bangaru Raja REVIEW: Hit or Flop? Is Ravi Teja's latest comedy thriller worth your time?
Changure Bangaru Raja Twitter review: The film features Karthik Rathnam, Goldie Nissy, Satya, Ravi Babu, Ajay, Vasu Inturi, and others playing pivotal parts in Ravi Teja's criminal comedy. Satish Varma directed the film, and Krishna Saurabh composed the soundtrack.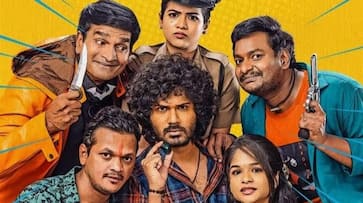 Changure Bangaru Raja is Massraja Ravi Teja's next comedy thriller. The film, starring Karthik Rathnam and Goldie Nissy, was released internationally on September 15. Satish Varma made his directorial debut with this film, which stars several well-known actors. The adversary of a village mechanic is discovered dead. The townspeople and police are certain that the mechanic is to blame. The film is a murder mystery thriller with elements of high humour. 
The premiere trailer for the film was excellent, and it promises an interesting course. Thanks to social media, a few cinema fans who don't allow any new movie pass them by become critics of sorts. The fans who saw the film a little early than the others have resorted to social media to voice their feelings about Changure Bangaru Raja.
 Cast of Changure Bangaru Raja
Karthik Rathnam, Goldie Nissy, Ravi Babu, Ester Noronha, Sathya, Jabardasth Apparao, Ajay, and Vasu Inturi play important parts in the film.
About Changure Bangaru Raja
Satish Varma wrote and directed the film. Changure Bangaru Raja's musician was Krishna Saurabh. Karthik Vunnava edited the film. Ravi Teja sponsored the film under his RT Teamworks brand.
Ravi Teja is the producer of the forthcoming film Changure Bangaru Raja, which stars Karthik Rathnam. Ravi Teja claims that the title Changure Bangaru Raja immediately enthralled him. "I was so taken with the story that I didn't even go to the shooting location for a single day." The film is quite entertaining, and I thoroughly enjoyed it. I've already seen the film twice and want to view it again once everything is ready."
Ravi Teja praised director Satish Varma's humorous script and hero Karthik Rathnam's comedic timing. He said that the film will appeal to all demographics.
Last Updated Oct 26, 2023, 3:12 PM IST