BTS' 'Jimin Production Documentary' to release on THIS date; Read details
BTS' Jimin is set to release "Jimin's Production Diary," a documentary about the making of his solo album "FACE" and the chart-topping single "Like Crazy," exclusively on Weverse on October 23. The documentary provides an intimate look into Jimin's creative process, emotions, and aspirations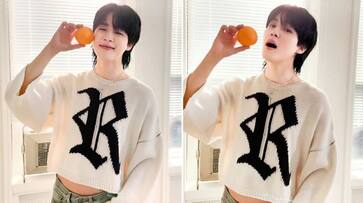 BTS' Jimin is making headlines once again, just a few months after creating Billboard chart history with his single "Like Crazy." He's now set to release a new solo documentary titled "Jimin's Production Diary," exclusively on Weverse on October 23.
This documentary, produced by HYBE, delves into the creation process behind "FACE," Jimin's first solo album, which gave birth to the Billboard Hot 100 No. 1 hit "Like Crazy." It offers an intimate and unfiltered look into Jimin as an individual, shedding light on the emotions and thought processes that fueled his debut solo project.
Jimin officially announced the documentary on October 9 through BTS' social media channels, sharing a brief video of himself writing the film's title on a blank notepad. The next day, on October 10, a teaser trailer was released on BTS' official social media platforms. In the trailer, Jimin can be seen recording one of the album's songs in a studio, and he reflects, "It's something that I shouldn't think too simply. It became the opportunity to know what I should do more clearly." He also expressed, "I can say that there are more things I want to do."
A "release calendar" accompanied the initial announcement, outlining a series of content drops. According to the schedule, a full-length trailer will be unveiled on October 13, with pre-orders for the documentary starting on October 14. The schedule extends through October 26 and includes additional content like lyric videos, posters, a quiz show, and a special message from Jimin to his fans.
"Jimin's Production Diary" is part of a series of streaming projects featuring the members of BTS. In July, HYBE and the Walt Disney Company announced a global content partnership, which includes five streaming titles, three of them exclusive to BTS or BTS members. Two of these projects have already been released, with fans eagerly awaiting the release of a docuseries titled "Monuments: Beyond the Star."
In April, Jimin achieved notable success with "FACE," reaching No. 2 on the Billboard 200 chart. Besides the chart-topping "Like Crazy," the album also featured "Set Me Free, Pt. 2," which peaked at No. 30 on the Hot 100. Jimin had two more entries on the Hot 100 this year, "Angel, Pt. 1"
Last Updated Oct 13, 2023, 8:45 AM IST