Bigg Boss 17: Vicky Jain loses temper on wife Ankita Lokhande; says 'Tameez se baat kar'
In the recent episode of the renowned and controversial reality show Bigg Boss 17, bollywood actor Ankita Lokhande entered the reality show with her husband, Vicky Jain. The couple got into a heated argument in the latest episode. Later, Vicky Jain lost his cool on wife Ankita Lokhande and said, 'Tameez se baat kar.'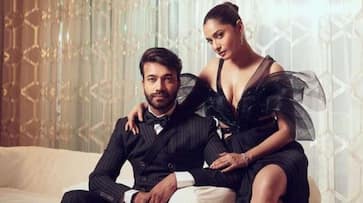 Renowned TV star Ankita Lokhande and her businessman husband Vicky Jain are currently hogging headlines ever since they entered Bigg Boss 17. In the latest episode, the couple was getting into a heated verbal spat and argument that went out of limits and proportion while discussing the game. Ankita Lokhande and Vicky Jain were lying in their bed. The actor told her husband that he was playing the game very well. However, he is not supporting her in the game and feels alone here. Vicky replied, "I am not your slave. I will not play according to you." Later, Vicky got furious and said, "Let us not talk to each other and stay away from one another." Later, Ankita ends up crying.
ALSO READ: VIDEO: Is Rajinikanth selling tea in Kerala? Meet Sudhakar Prabhu, superstar's lookalike from Cochin
Vicky lost his cool and yelled at his wife Ankita that they are in the show to play and win. If he will only sit with her, then there is no way they can go ahead in the game. Ankita was also upset that Vicky discussed their personal problems with co-contestant Isha Malviya. She confronted him for his closeness with Isha and discussed their marriage with her.
Ankita told Vicky, "I am feeling very disturbed. I am trying to figure out for myself. So, you play your game the way you want to. Because I feel we had come together. But we are not together anymore. You do not take a stand for me."
The couple began the conversation. Vicky asked her to speak softly and respect her as he has always supported her and is not her slave. Later in the episode, Vicky Jain mentions the 'touch patch' in their lives, where he will definitely be supportive towards her no matter what. Vicky tries to convince her. He adds that he has his limitations and cannot revolve around her. He also says she is free to do whatever she wants as he is doing pretty well in the game. Ankita gets sad on hearing this. She also gets teary-eyed, revealing she cannot stay inside the house.
ALSO READ: Chandrachur Singh terms Salman Khan 'liar', later deletes the comment (Read)
Last Updated Oct 24, 2023, 11:48 AM IST