Bigg Boss 17: Is Ankita Lokhande planning to have a baby with Vicky Jain? Here's what we know
Ankita Lokhande and her husband, Vicky Jain appeared on Bigg Boss 17 as contestants. In the most recent episode, she explained why she decided to perform the show this year rather than next.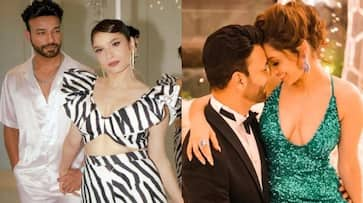 Ankita Lokhande, well known for her role as Archana in Pavitra Rishta, joined the Bigg Boss 17 house alongside her husband, Vicky Jain. The pair married in a grand wedding ceremony on December 14, 2021. In the most recent episode, the star discussed her pregnancy plans with her husband and disclosed that Jain is a great fan of the reality programme.
Lokhande said in a chat in the garden area that she accepted to do Bigg Boss this year because her husband has always watched the programme and wanted to be a part of it. She said they chose to be in the BB 17 house this year because they may have a kid the following year. 
Soon after the #BiggBoss_Tak handle on Twitter shared the update, fans jumped to comment, slamming the actor for not taking the reality show seriously. One user wrote, "That's why vicky is more enthusiastic for show as he is a bigg boss fan." Another user wrote, "Ankita is not deserving at all. If you agreed to come only because of your husband then there is no passion for the game in you. Should have let his husband come alone."
Meanwhile, Ankita becomes embroiled in a violent debate with her co-contestant Aishwarya Sharma. It all started when the Pavitra Rishta actress discussed Sharma's actions with other convicts. The debate became heated as the latter communicated her displeasure with Mannara and Navid to her husband Neil Bhatt. Lokhande and Jain, the couple thought, had distanced themselves from them. 
Bigg Boss 17 contestants
Munawar Faruqui, Neil Bhatt, Aishwarya Sharma, Ankita Lokhande, Vicky Jain, Abhishek Kumar, Isha Malviya, Navid Sole, Anurag Dhobal, Soniya Bansal Khanaadi, Jigna Vora, Rinku Dhawan, Sunny Arya, Mannara Chopra, and Arun Mashettey are Bigg Boss 17 participants. 
Last Updated Oct 19, 2023, 10:32 AM IST