Bigg Boss 17 day 32 update: Arun Mashettey mocks Mannara Chopra face as 'Sadi Surat' during luxury ration task
Bigg Boss 17, on its 32nd day, featured a Diwali bash and a task where Arun Mashettey criticized Mannara Chopra's appearance. The season's theme departs from equality, introducing the Archive Room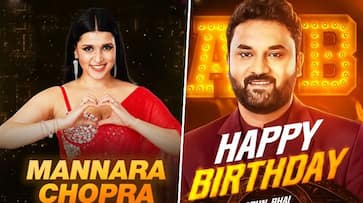 On November 16, the 'Bigg Boss 17' contestants celebrated their 32nd day in confinement, with a special Diwali bash organized by Bigg Boss. Paparazzi were invited inside the house to capture moments on the red carpet. A task was then announced by Bigg Boss for the contestants to earn luxury ration.
During this task, Arun Srikanth Mashettey, who had previously considered Mannara Chopra his sister, was assigned the task of criticizing her without revealing her name. Arun took this opportunity to comment on Mannara's appearance, stating, "She was referred to as the emoji queen by Bigg Boss, and that expression will be used as an emoticon while chatting. But, I would like to inform everyone that she is a sadi surat (ugly face) emoji. She enjoys it when people are fighting in the house. She gets relief while watching others fight. She keeps crying sitting in the corner and then later blames others for attacking her in a group and asks for support."
Regarding the overarching theme of 'Bigg Boss 17,' it revolves around 'Iss baar game nahi hoga sabke liye same to same,' suggesting a departure from the traditional principle of equality. The season introduces new features, including the Archive Room, serving as a comprehensive library housing footage from every episode of the current season. Moreover, 'BB 17' is divided into three houses – Dil, Dimaag, and Dum.
The diverse mix of contestants on 'Bigg Boss 17' includes exes Abhishek Kumar and Isha Malviya, Rinku Dhawan, Sunny Arya, Firoza Khan (popularly known as Khanzaadi), Jigna Vora, Sana Raees Khan, Anurag Dobhal, Munawar Faruqui, Ankita Lokhande and Vicky Jain, Navid Sole, Neil Bhatt, Aishwarya Sharma, Samarth Jurel, and Mannara Chopra.
ALSO READ: Sukhee OTT release: When and where to watch this Shilpa Shetty starrer
The eviction roster includes Soniya Bansal as the first contestant to be ousted from the 'Bigg Boss 17' house, with Manasvi Mamgai also meeting the same fate.
ALSO READ: The Crown season 6 Part 1: Elizabeth Debicki as Princess Diana takes away cake from the Late Queen Elizabeth
Last Updated Nov 17, 2023, 12:10 PM IST