Arijit Singh spotted at Salman Khan's Galaxy apartment; did the duo finally end their 9-year feud? Read this
Bollywood star Salman Khan appears to have patched things up with Arijit Singh, who was spotted leaving the Tiger 3 star's Galaxy flat on Wednesday night.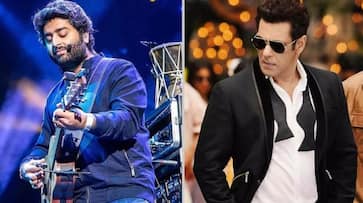 After nine years, Bollywood superstar Salman Khan appears to have forgiven singer Arijit Singh. The singer was seen leaving Salman's Galaxy apartment in Mumbai on Wednesday (Oct 04) night. As soon as the video went viral, viewers speculated whether the couple had indeed buried the hatchet after an almost decade-long battle.
The video was shared by a Salman Khan fan on X, formerly known as Twitter. Posting the clip, the fan wrote, "Arijit Singh Spotted at Salman Khan's house Today. What's happening??" Another fan wondered if the meeting took place for any musical collaboration in Salman's upcoming movie Tiger 3 or his untitled film with Vishnuvardhan and Karan Johar.
Also Read: Koffee With Karan Season 8: Karan Johar drops in teaser, show to stream from THIS date
Salman and Arijit got into a brawl during an award ceremony in 2014. Arijit Singh walked on stage to accept the prize when Salman Khan was hosting the event. "Tu hai winner (You're the winner)?" Salman told Arijit, who was dressed rather casually. To this, the singer replied, "Aap logon ne sula diya (You all put me to sleep)." Following this, Arijit's songs were removed from Salman's films, including Bajrangi Bhaijaan, Kick and Sultan.
Arijit had later issued a public apology to Salman in 2016, appealing to him to keep his version of the song in Sultan. The musician stated in his article that he attempted to apologise to Salman several times via text and email but was unsuccessful.
Also Read: Virat Kohli, Anushka Sharma extend heartfelt message to cricket fans; Read DETAILS
"…you (Salman) are mistaken about the fact that I insulted you." About Sultan's song, he wrote, "I have sung enough songs sir. But I want to retire with at least one song of you keeping in my library. Please do not take away this feeling."
Last Updated Oct 5, 2023, 8:33 AM IST