Animal actor Ranbir Kapoor reveals daughter Raha's first words; plans an extended paternity leave
Ranbir Kapoor, in a recent fan interaction, shared the joy of parenting, with his daughter Raha's first words and plans for a six-month movie break to focus on family. He has promising projects ahead, including 'Animal' and 'Brahmastra Part 2'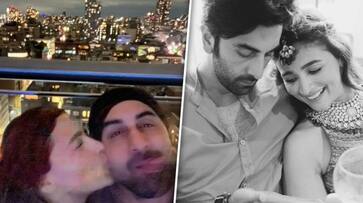 Ranbir Kapoor, the acclaimed actor, recently shared insights about his relationship with his daughter, Raha, and confirmed his decision to take a six-month break from acting in movies. This marks an exciting period in his career and personal life, with numerous intriguing projects on the horizon.
In his personal life, Ranbir Kapoor is happily married to the National award-winning actress Alia Bhatt, and the couple has been blessed with a baby daughter named Raha. During a recent interaction with fans Ranbir discussed his bond with his daughter.
During this chat, Ranbir Kapoor disclosed that he has been devoting a substantial amount of time to his young daughter Raha, even amidst his hectic shooting schedules. The proud father revealed that Raha has reached the stage of crawling, is beginning to recognize objects, and has been showering love on those around her.
Ranbir also shared that Raha has started attempting to say "Ma" and "Pa" in recent days. He described this phase of his life as the most beautiful and emphasized his intention to cherish every moment of it.
Additionally, in the conversation with fans, the talented actor acknowledged that due to his busy work commitments, he had not spent as much time with Raha during the initial months after her birth. Nevertheless, he confirmed that he is planning to take a six-month hiatus from movies to focus on his role as a parent. This decision comes as his wife, Alia Bhatt, is currently engaged in shooting for "Jigra," an upcoming project helmed by Vasan Bala.
In terms of his upcoming projects, Ranbir Kapoor has become more selective about the roles he takes on. He is set to appear in "Animal," a forthcoming film directed by Sandeep Reddy Vanga, which is anticipated to be a mass-action thriller and is scheduled for release on December 1, 2023.
ALSO READ: Karan Johar reveals how Shah Rukh Khan's friendship shaped his journey towards self-acceptance; Read
Furthermore, Ranbir is gearing up to reprise his role as Shiva in the second installment of the "Brahmastra" franchise, with production slated to commence by the end of 2024. He is also in discussions for lead roles in adaptations of the epic "Ramayana" and a biopic on the legendary Kishore Kumar, both of which are expected to be officially announced in the near future.
Last Updated Oct 25, 2023, 9:43 AM IST