Karan Johar reveals how Shah Rukh Khan's friendship shaped his journey towards self-acceptance; Read
Karan Johar expresses deep gratitude for Shah Rukh Khan's unwavering support in a recent interview, highlighting how SRK's acceptance and friendship helped him embrace his personality and sexuality, fostering a transformative bond in their enduring camaraderie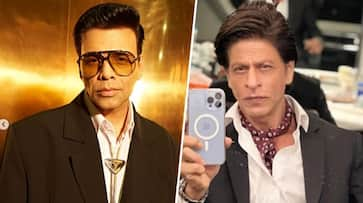 In a recent interview, renowned filmmaker Karan Johar opened up about his profound admiration for Shah Rukh Khan and how the Bollywood superstar has been a pivotal influence in his life. Their enduring camaraderie is a well-known fact, and Karan has frequently expressed his deep affection for SRK, acknowledging the significant role Khan has played in shaping his journey.
Karan Johar reminisced about how Shah Rukh Khan's upbringing in a progressive environment set him apart as someone who never made Karan feel inadequate. Khan, known for his open-mindedness, was the first person who made Karan Johar feel entirely comfortable with himself. He emphasized that Shah Rukh Khan had been raised in a diverse and open-minded background, having worked with a wide range of people.
Karan went on to recollect a period in his life when his parents struggled to comprehend his evolving personality and sexuality. He revealed that his more effeminate side became increasingly apparent, which often led to ridicule from others. While the public's overt mockery lessened as he grew older, there was still an undercurrent of judgment regarding his mannerisms and behavior.
ALSO READ: Ranbir Kapoor finally talks about Alia Bhatt's lipstick statement, which she gave during her makeup tutorial
Karan Johar confided that Shah Rukh Khan was the first individual who did not belittle him or make him feel inferior in any way. Khan treated him as an equal, irrespective of the judgments passed by society. In his own words, "I remember Shah Rukh Khan was the first man that didn't make me feel lesser for some reason. He made me feel like an equal."
Furthermore, Karan Johar disclosed that Shah Rukh Khan accepted what was, in those times, often labeled as "pansy" or "effeminate," including his distinctive way of walking and speaking. Their friendship deepened, and Khan became Karan's confidant, someone he could openly discuss his personality and sexual orientation with.
"When I needed to discuss the most significant aspects of my personality and sexuality, I turned to him first. He was my unwavering source of support. Even he doesn't realize what he's meant to me," Karan Johar remarked, underscoring the depth of their friendship and its transformative impact on his life.
Shah Rukh Khan and Karan Johar have collaborated on several successful films over the years, such as "Kuch Kuch Hota Hai," "Kabhi Khushi Kabhie Gham," "Kal Ho Na Ho," "Kabhi Alvida Naa Kehna," among others. Their professional collaboration is a testament to their enduring personal bond.
Last Updated Oct 25, 2023, 9:15 AM IST