Ambani Ganpati Puja: Aishwarya Rai Bachchan screaming 'Moreya' wins hearts of fans
Aishwarya Rai Bachchan and Aaradhya Bachchan were spotted and papped by the dedicated team of the paparazzis at the Ganpati Puja of the Ambani Family on Tuesday at Antilia. A video went viral in which Aishwarya Rai is happily screaming Moreya, which has won the hearts of fans.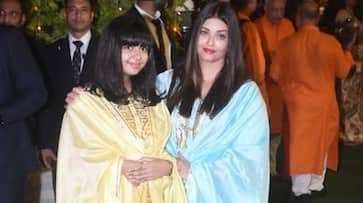 Aishwarya Rai was seen in her best spirits as she attended the Ganpati puja hosted by the Ambani family on Tuesday night. The actress attended the star-studded puja with her daughter, Aaradhya Bachchan. The mother-daughter duo represented the Bachchan family members. Aishwarya and Aaradhya were wearing similarly styled salwar-kameez. Aishwarya looked stunning in a traditional blue churidaar. Aaradhya looked pretty in a golden churidaar. They looked enchanting in their traditional ensemble outfits.
ALSO READ: Jailer: Rajinikanth reviews his own latest film says, 'it was average but it was..'
While Aishwarya and Aaradhya posed for the paparazzi, Aishwarya could not help but colour herself in the spirit of Ganesh Chaturthi. The actress joined the paparazzi to chant Ganpati Bappa Moreya. In a video shared by a paparazzo, a cameraman was captured chanting, Ganpati Bappa and Aishwarya quickly also chimed, Moreya. If that was not adorable and heartwarming enough, Aaradhya was witnessed and captured to be thanking the paparazzi after they took pictures of her and Aishwarya. Watch the video below:
Recently, Abhishek Bachchan opened up about Aishwarya. He revealed that she does all the heavy lifting at home, allowing him to focus on work. Speaking with Humans of Bombay, Abhishek said, "Sometimes, unfortunately, you know you are so consumed at work that you do not get to spend as much time as you want. So back home, you know, Aishwarya does all the heavy lifting. I love her and thank her for that. She does it so selflessly. She does a great job. I am eternally grateful." Meanwhile, the Ganesh Chaturthi puja hosted by the Ambani family took place at their home, Antilia, in Mumbai, and was attended by several stars.
ALSO READ: Sara Ali Khan, Ibrahim Ali Khan 'humshakals' of Amrita- Saif; playful banter cracks up social media
Last Updated Sep 20, 2023, 11:58 AM IST