Aamir Khan quits social media on his birthday; here's how fan's reacted
Bollywood perfectionist Aamir Khan announced that he would be no longer active on social media; here's what he posted.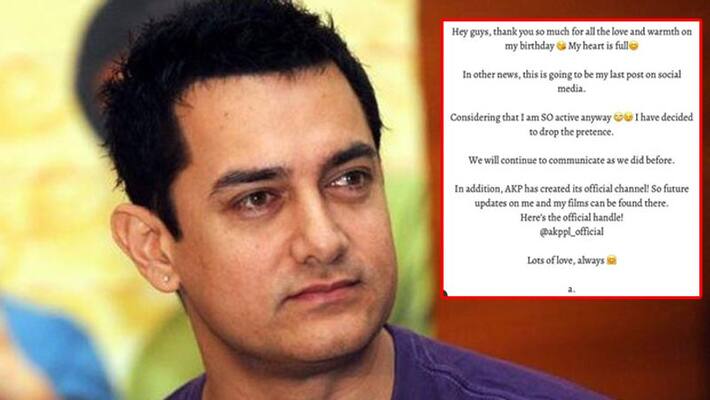 Earlier this week was Aamir Khan's birthday, and fans went gaga by posting edits and birthday wishes for the actor.
Many celebrities also took to their Instagram account and shared his picture, wishing the fine actor good health and happiness on his special day.
Aamir Khan actively shared the edits and posts on his Instagram account and thanked everyone for their lovely wishes.
What came as an ultimate shock was that Aamir Khan announced leaving social media engagements.
The actor took to his Instagram account and shared a story wherein he expressed his gratitude towards everyone for their wishes.
The actor said he would be no longer available on social media, and thank you for all the love.
Fans did not receive this very well, as their hearts broke when their favourite actor decided to quit social media.
Many fan accounts posted the pics and asked Aamir Khan to stay and don't leave the platform.
He wrote, "Hey guys, thank you so much for all the love and warmth on my birthday  My heart is full
In other news, this is going to be my last post on social media. 
Considering that I am SO active anyway  I have decided to drop the pretence. 
We will continue to communicate as we did before. 
In addition, AKP has created its official channel! So future updates on me and my films can be found there. 
Here's the official handle! @akppl_official
Lots of love, always
a."
Aamir Khan will next be seen in the official remake of the cult classic film Forest Gump. The movie is titled Laal Singh Chaddha and stars Aamir in the lead along with Kareena Kapoor.
Last Updated Mar 16, 2021, 9:28 AM IST