On July 31, 1987, Thoovanathumbikal released to theatres
Directed by Padmarajan it had Mohanlal and Sumanlatha play the lead characters
It was film ahead of its time, way ahead of its time
It also gave us the songs Onnaam Raagam Paadi and Megham Poothu Thudangi
Thoovanathumbigal requires no introduction, but for the sake of those readers who have not witnessed the magic of Malayalam cinema, here's a short recap.
It has been 30 years since the film Thoovanathumbigal released. The star cast has a young Mohanlal, who played Mannarathody Jayakrishnan and Sumalatha as Clara and Radha who was played by Parvathi.
In supporting roles you had Rishi played by Ashokan, Thangal played by Babu Nambothiri, Sreenath as Madhavan, Sukumari as Jayakrishnan's mum, Jagathi Sreekumar as Ravunni Nair, Sankaradi as Radha's dad and MG Soman as Moni Joseph.
It is referred to as one of Padmarajan's timeless classics. It was a cult movie for varied reasons
A young man coming to terms with the dichotomies of life
The quite realistic divide of the dual life a man leads- his heart and his soul, the city and the village.
The good woman and 'the other woman'- the chaste village girl and the spoilt city girl
Interestingly, Thoovanathumbigal was declared as a flop when it released but then it grew on the audience, much like fine wine. Probably, sensibilities had improved later on.
Rated A as in adult, the film touched upon a subject that was taboo then. At that time the only woman who could express her sexual freedom was a prostitute or a sex worker and Mohanlal acts as the city boy enamoured by her charms. His dual life … the one in the village back home and the one he shares with Clara forms the crux of the story.
Radha, the second lead, proves to be the propeller of Jayakrishnan into the hands of Clara. A subdued Jayakrishnan tries to make sense of what is happening, he falls in love, a second time irrespective of the taboos of society. Jayakrishnan was engaged to Radha, yet Clara's magnetic charm reeled him in. Despite this, no one would have criticised Mohanlal's Jayakrishnan, because everybody begins rooting for Clara.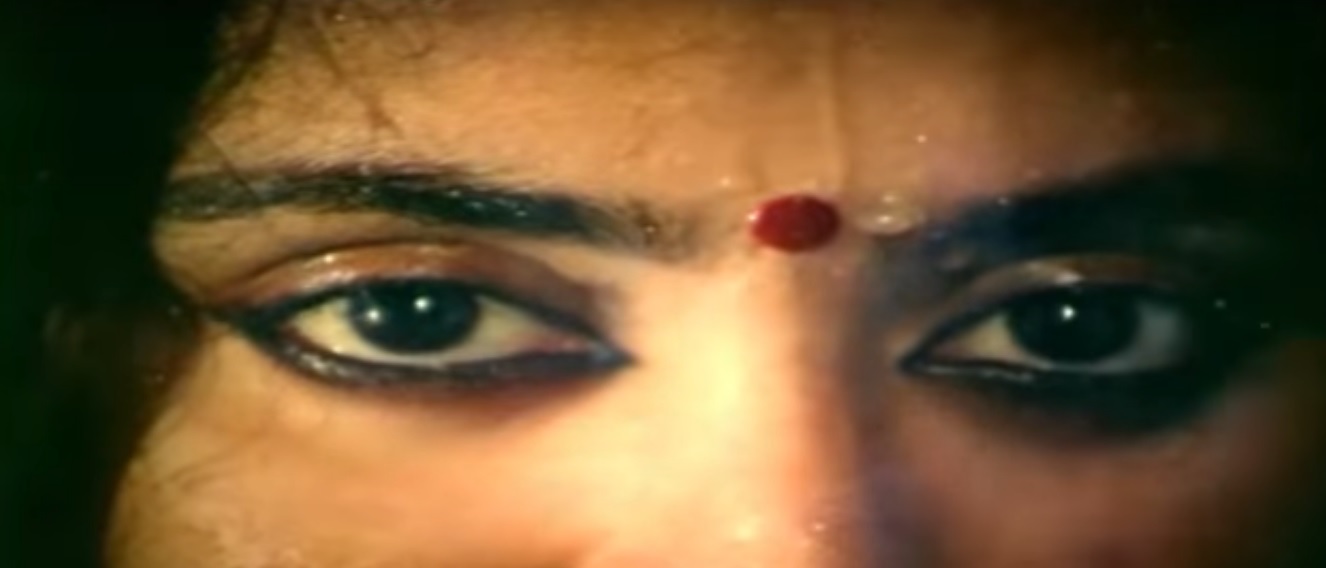 Clara, on the other hand, was the character Padmarajan crafted with passion. He presented a woman, who despite confined to label of prostitution, shines like a beacon of hope. She refuses to be bogged down by the society or norms but even then, the director seemed to have been forced to sacrifice Clara's love so that Jayakrishnan could come back to safety, into society's fold, and live with the chaste woman(Radha). It could come across as a conformity to societal norms. Clara playing the 'unwanted woman' the 'dishonoured woman' whom society would never accept, so she ends up sacrificing her love for Jayakrishnan willingly and in order that he may live fully, she marries a widower so that her former love can no longer entertain any thoughts about her.
Padmarajan's directorial vision is a class apart, none of the scenes he filmed with the pair seemed vulgar or uncomfortable. This is quite an achievement considering the fact that he was touching upon a raw nerve – the celebration  of love in the arms of 'the other woman! What ideas was the director selling? Was he promoting infidelity? Why was he glorifying Clara? Numerous questions arise. That was Padmarajan's genius, he was a master at displaying emotions.
Recollecting the magic that Thoovanathumbigal created, the background score by Johnson definitely deserves a mention.
Perumbavoor G. Raveendranath composed some excellent songs - Onnaam Raagam Paadi and Megham Poothu Thudangi for the film. The lyrics written by Sreekumaran Thampi and voiced by KJ Yesudas, Chitra and G Venugopal. Till today, the music enjoys a cult status and a must-have in any music collector's playlist.
30 years ago Padmarajan gave Malayalam cinema this gem and in its essence Thoovanathumbigal has had no competition till now. It gave us love in its purest form, bereft of all the complexities - pure and unconditional.