'Tiger 3': Film's show turns into nightmare as fans burst crackers inside theater, watch horrifying video
According to a viral video, a group of individuals set off rockets in Malegaon's Mohan Cinema Hall on Salman Khan's entry at the big screen.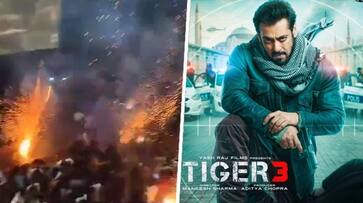 Fans of Salman Khan who went to see 'Tiger 3' in a theater were given a rude shock when a group of people burst crackers inside the auditorium. The film 'Tiger 3' was released to coincide with Diwali and according to a video posted on X, formerly known as Twitter, a houseful auditorium erupted in ecstasy when Salman appeared on the big screen. However, the celebrations turned into a nightmare when a few fans let off fireworks in the auditorium and people were seen hiding under chairs to avoid any injury. 
The video
According to a viral video, a group of individuals set off rockets in Malegaon's Mohan Cinema Hall to celebrate Salman Khan's appearance in the film. Several supporters were observed exiting the theater room in an attempt to avoid being hurt. According to sources, after the screening of 'Tiger 3', Salman Khan's fan club in Malegaon let off fireworks, and the footage went viral on social media. 
Salman Khan's statement on the incident 
Salman Khan was not very happy with his fans' behaviour and hence he criticized the incident on social media and asked fans not to repeat it. He requested his fans not to bring firecrackers into the auditorium because it could cause a huge fire hazard, endangering everyone's lives. "My proposal to theater owners is that no firecrackers be brought into the theater, and that security personnel prevent them from doing so at the entrance. Enjoy the film, but please, please avoid it. That is my wish to all my fans. Thank you." he said
Previous incident
This isn't the first time that fireworks have been set off at a movie theater showing a Salman Khan film. During the 2021 premiere of 'Antim: The Final Truth', his fans burst crackers inside the cinema auditorium. 
About 'Tiger 3'
'Tiger 3' is an action thriller film directed by Maneesh Sharma and produced by Aditya Chopra through his production company Yash Raj Films. Salman Khan and Katrina Kaif play the lead in the film and Emraan Hashmi plays the role of a villain. It is the fifth entry in the YRF Spy Universe and the sequel to 'Tiger Zinda Hai'.
Last Updated Nov 13, 2023, 2:31 PM IST