'Pawri Ho Rahi Hai' viral girl Dananeer Mobeen creates new record; becomes an 'award-winning' actress
The internet sensational Pawri Ho Rahi Hai girl, Dananeer Mobeen, won the best emerging actress awards for her drama, 'Muhabbat Gumshuda Meri', at the recent Lux Style Awards 2023. The blogger is an eminent name in the Lollywood (Pakistani) serial dramas industry and won the hearts of audiences with exceptional performance as 'Zubi' in the series.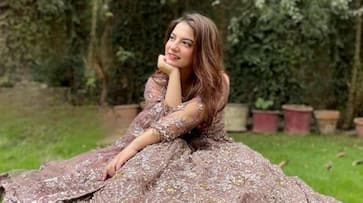 Remember the viral Pawri Ho Rahi Hai girl, Dananeer Mobeen? She became an overnight sensation after she dropped the video of her Pawri with her friends on Instagram, which later got remixed by globally acclaimed Indian content creator Yashraj Mukhate into a catchy lyrical song. The video went completely viral on social media, resulting in people making memes and videos on her audio.
ALSO READ: Is Bipasha Basu to make her comeback? Here's what we know
Ever since that moment, the Islamabad-based blogger personality's fame and popularity have skyrocketed, landing numerous opportunities like advertisements, television, and more. It would not be wrong to say that Dananeer has made a name for herself and continues to be a notable figure on social media.
Dananeer Mobeen is now an award-winning actress:
If you are wondering why we are talking about her, then let us tell you that Dananeer is now a successful Lollywood actress and has won an award for her exceptional acting chops. After her Pawri Ho Rahi Hai video went viral, Dananeer Mobeen shot to fame, and she even got noticed by Lollywood (Pakistani entertainment industry) and got roped in to play the role of 'Zubi', the main protagonist in the Pakistani drama "Muhabbat Gumshuda Meri."
The serial was a hit and also got excellent viewership in India. Here comes the best part. Because of the popularity of the Pakistani drama serial, the serial actors got nominated in several categories at the recently held Lux Style Awards in Pakistan. However, only Dananeer Mobeen won the award for 'Best Emerging Actress' at the event.
Mohabbat Gumshuda Meri is a story of childhood friends turned lovers Zobia and Saim. The drama is much loved in India and abroad for the chemistry of its main leads. However, as the story progresses, the relationship of its leads faces several challenges from the orthodox society, which the two combat together in their urge to stay united.
Apart from Mohabbat Gumshuda Meri, Dananeer Mobeen has also been part of a series, Sinf-e-Aahan. However, she became a main lead only after her 'Pawri' reel went viral. The internet, indeed, does have the power to change lives.
ALSO READ: Shraddha Kapoor's Dussehra delight: Red Lamborghini Huracan Tecnica joins her fleet [WATCH]
Last Updated Oct 25, 2023, 11:30 AM IST