'Almost subservient to Sara...' Fans bash Vikrant Massey for seeking her 'validation'
A new video has gone viral on the social media platform Reddit. In the video, we can see how Bollywood actor Vikrant Massey is seeking validation from Sara Ali Khan during an interaction.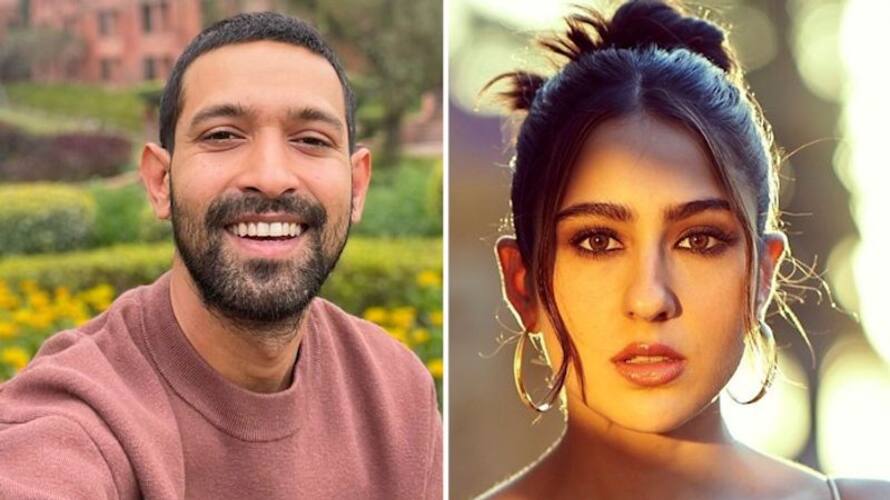 Vikrant Massey is a nuanced film actor who has given impressive performances in films like Lootera, A Death in the Gunj, Chhapaak, Dolly Kitty Aur Woh Chamakte Sitare, Forensic, Cargo, Haseen Dillruba, and so on.
Sara Ali Khan has given impressive performances in films like Simmba, Kedarnath, Atrangii Re, and Love Aaj Kal (2020). But the viral clip proves one thing. Sara Ali Khan is a rising star who is getting good projects without much hassle thanks to her patriarchal lineage of being Saif Ali Khan's daughter as opined by many fans.
ALSO READ: 'Mean girl vibes': Reddit fans blast Deepika Padukone for being 'bitchy' to Katrina Kaif; see VIRAL comments
A clip has gone viral on the social media platform Reddit. In the video, we see how Vikrant Massey is trying to apologize for his preconceived notions about Sara Ali Khan in a media interaction. This gesture didn't settle well with fans and cinema fanatics, who have bashed the rising actor in Bollywood for doing so.
When Vikrant had apologized to Sara for having certain preconceived notions about her
by u/WinterOk6398 in BollyBlindsNGossip
"This is why Vikrant has not & will not be an established actor. He doesn't hold his ground and keeps seeking validation. It's talent + your self-esteem + choices which matter and not just talent alone. He is almost subservient to Sara, who is making it about herself. How can any outsider grow with such poor self-esteem? Look at SRK, Kartik Aryan, Siddhant C, and Ranveer Singh - imagine them being like this, then would they have succeeded? And Sara is EXTREMELY self-absorbed / limited person. She has poor awareness of other people. Keep seeing this in every interview of hers," a fan slammed Vikrant. "He just lacks assertiveness and self-belief. It's not something that people with different personality or who have struggled cannot overcome. Deepika was shy and gradually became self-assertive. Radhika Apte is self-assertive. Rajkummar Rao has struggled a lot, but is a go-getter and believes in himself. Tapsee struggled too. And, she doesn't even have acting talent - she did weird South films and now puts together her own projects," a fan bashed Vikrant. "What connections did Rajkumar Rao, and Vidya Balan have? And Kartik started with a first-time director Luv Ranjan before Tseries. Siddhant started his career with a role in a webseries before Gully Boy. SRK didn't always have YRF / Dharma. All the backing came later as they grew on their own. And production backing is well-considered but not fully needed - look at Vidya Balan, Kangana. They grew and rose to the top without any big-production house backing. Also, Vicky Kaushal played supportive parts before he became an established name. He was nervous around them but did not behave like this. The thing is that, you have to hold your ground and believe in yourself in this profession. You cannot be a people pleaser. Or else, with established production backing, you become irrelevant like Vaani Kapoor, Manushi, and Parineeti. Shraddha Kapoor left YRF to do Aashiqui - to date, her most iconic film, shows self-belief," a fan mocked Vikrant.
ALSO READ: Amitabh Bachchan feels 'unbearable' pain, doctors called in at wee hours for actor's treatment
Last Updated Mar 22, 2023, 5:31 PM IST