WB: 50,000 security personnel to guard last phase of polls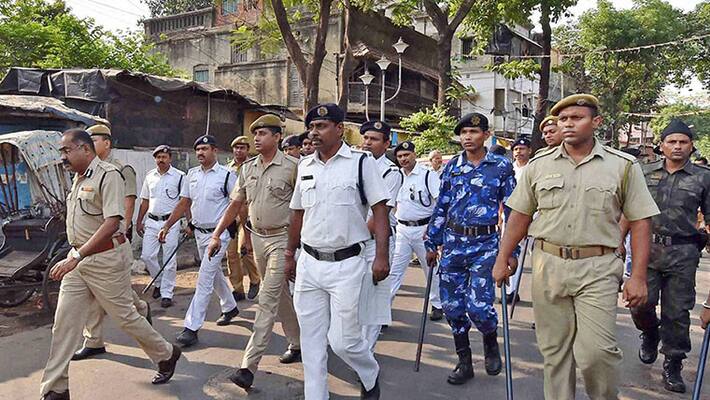 About 50,000 security personnel, including 361 companies of central forces, have been deployed to ensure that polling for the sixth and last phase of West Bengal elections is held in a free and fair manner.
Election Commission officials said 123 companies of central forces are manning Coochbehar district while another 238 companies are stationed in East Midnapore district. Another contingent of 4,500 state police personnel, have been deployed to assist the central forces in Coochbehar while 7,500 personnel are in East Midnapore district.
 
Yesterday expressing concern over reports of violence after the fifth phase of polling in West Bengal, the CPM demanded that the Election Commission "strictly" enforce section 144 in 25 constituencies which go to poll during the sixth and last leg of the state assembly election on May 5.
"Section 144 should be strictly and properly executed in the ensuing poll in the two districts Cooch Behar and East Midnapore.
"Unlawful gathering by motorcycle-borne political musclemen in the roads and by-lanes beyond 200 metres of booths in an attempt to intimidate voters should be foiled," the CPM demanded in a memorandum to the EC.
The CPM also asked the Election Commission to ensure proper security arrangements after the last phase too, especially because the interregnum between the final leg of voting and counting of votes is of almost two-week-long as the party apprehends recurrence of violence.
The memorandum was signed by CPM General Secretary Sitaram Yechury and party Central Secretariat member Nilotpal Basu.
The duo further expressed apprehensions that there is "some serious possibilities" of intrusion of outsiders in the two districts to "manipulate" entire vote and sought to keep all hotels, tourist lodges, under-construction buildings and slum areas there under "serious vigil".
The Marxist leaders asked the EC to also "seal effectively" coastal, riverine and land borders of East Midnapore as was done during previous phases.
The two also insisted EC to ensure patrolling and route march of central forces to build up confidence-level of common voters in all sensitive areas.
Among other demands, they said electors' photo identity card and voters' slip supplied by the Commission "be checked properly".
 Accusing the TMC of launching unabated violence and "not even sparing children" for their elders having gone to polling booths after voting in previous phases, CPM asked the authority to ensure proper post-poll security.
Campaigning for the last phase of the election ended yesterday.
In all, 170 candidates including 18 women are in the fray in 25 constituencies which have an electorate of over 58 lakh voters.
Last Updated Mar 31, 2018, 6:33 PM IST