Victorious Mamata announces 11-day celebration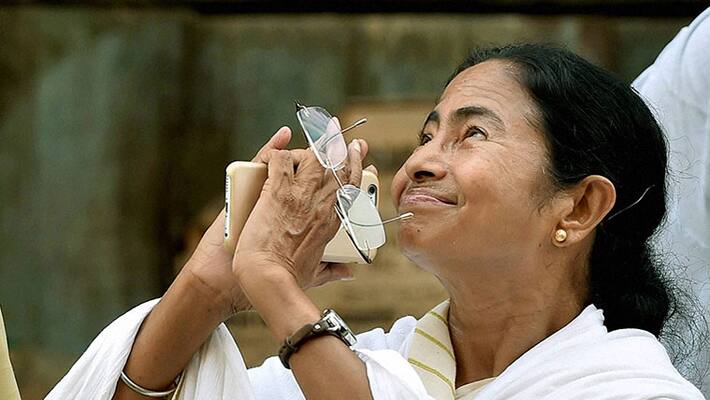 Mamata Banerjee has emerged triumphant from the electoral test in West Bengal and led her party to an unprecedented landslide win, surpassing expectations of even the most avid Trinamool Congress supporter.
Outside her residence in Kalighat in south Kolkata, supporters gathered since early morning, smearing one another with green colour, flashing the victory sign and celebrating her win. Soon after noon, when it became more than apparent that her party was set to return to power in the state, the Trinamool Congress supremo addressed the press.
"The Trinamool fought alone with the entire opposition against us. Families came together to help us win, they stood in the queue and in the heat for hours to vote. We fought alone this time. Last election, Trinamool had won 184 seats in alliance with the Indian National Congress. This time, the opposition was united against us. In spite of that, we emerged victorious," said Banerjee, thanking the people of West Bengal for such a huge victory.
Banerjee made a few scathing remarks against the Left-Congress opposition. "If a party loses its ideology, it loses everything," she said and added that the Left-Congress had done so.
"The opposition tried their best to mislead and create an atmosphere of fear among people but they voted peacefully and fearlessly. I thank the Election Commission of India for conducting the polls peacefully."
On Thursday, PM Narendra Modi called Banerjee to congratulate her. Banerjee thanked him for his wishes and in her address to the press, said that a campaign of slander and lies had led to the sweeping victory of the Trinamool.
"People do not like such campaigns. There were all sorts of alliances against us. But people have ultimately made their choice. This is the first time in 49 years that such a massive mandate has been given to a single party," said Banerjee.
She vowed to make development the cornerstone of her new government. "People have reposed their faith in us. We thank the people of Bengal and will make the state the best among all."
"We now have the responsibility to work harder still and bring development to the downtrodden. We will work for the youth. This is a day of 'poriborton' (change) for us."
She announced 11 days of celebrations, or Vijay Utsav, organising cultural functions from Friday till May 30 to thank the 'Maa, Mati, Manush' for their support. The swearing in ceremony will be held on May 27, Friday, and the assembly session will begin two days later. She said she had chosen Friday as the day to return to power as the day was considered auspicious by people of all religions.
Asked about the possibility of her lending support to a Third Front in national politics, Banerjee told the press, "You must wait and watch what happens." She also said that after Bengal, Tripura was her party's next target.
Banerjee also said that her party has ideological differences with BJP and would never support that party. "I am not a VIP. I am an LIP (Less Important Person). I want to continue to live as a commoner. The majority and minority — all voted together… Do not try to divide them," she added.
Last Updated Mar 31, 2018, 6:47 PM IST