Kerala Polls: UDF, LDF target BJP-led NDA third front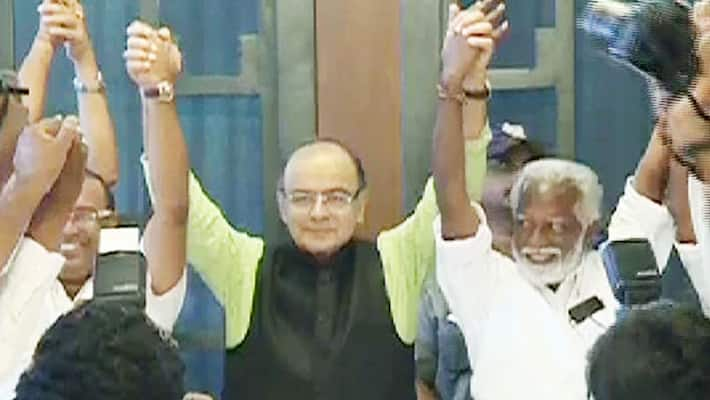 With electioneering for the May 16 Assembly polls in Kerala is picking up steam, emergence of the BJP-led NDA third front has become the main campaign plank of the ruling UDF and its rival LDF with both targeting it and as as a result relegating to the background, the solar and bar bribery scams.    
The bipolar politics of Congress-led UDF and CPI-M headed LDF that dominated state's electoral arena for the past several decades seems to have received a beating with the third Front of BJP-led NDA becoming a reality this time.           
With only a fortnight left for the polls, both UDF and LDF are fiercely attacking the BJP led-NDA alliance with slogan of 'BJP free Kerala Assembly' as their main agenda.
UDF that focused its electioneering in the initial stages on 'development initiatives' of the government to retain power has lately shifted its campaign gear by targeting BJP.    
Similarly LDF, which attacked UDF over corruption charges, especially relating to solar, bar bribery scams and land assignment row, seems to have now sidelined these issues to some extent.
However, the exception is 93-year CPI-M veteran V S Achuthanandan who is continuing his tirade against Chief Minister Oommen Chandy over corruption allegations connected with bar and solar scams.
Launching a fierce attack on BJP, CWC member and former Defence Minister A K Antony set the tone with his statement that Congress party's main agenda is to ensure that BJP does not open its account in the state in the assembly polls.    
Antony also claimed that there would be a communal divide in the state if BJP wins seats in the polls.    
CPI-M politburo member Prakash Karat welcomed Antony's remark but said Congress "has no resources neither politically or ideologically to take on the BJP and in Kerala, it is only LDF that can challenge the saffron party."
Both Congress and CPI-M leaders also asserted that BJP would not win a single seat this time also despite the campaign hype the saffron party is trying to create by lining up its top leaders including Prime Minister Narendra Modi to canvass for NDA candidates.
"Attacking BJP is part of UDF and LDF strategy to lure the minority votes," a political observer claimed, adding, "Accusation by each Fronts of having links with BJP is also part of that strategy."
Last Updated Mar 31, 2018, 6:34 PM IST