TN Polls: When you can't tell opinion polls from party propaganda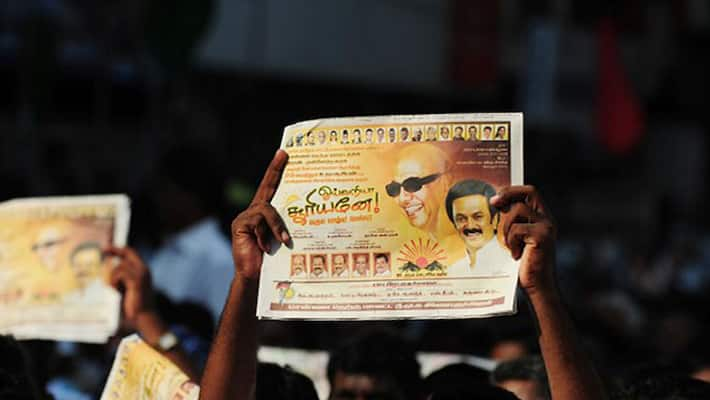 If you are looking for definitive clues on which way the Tamil Nadu voters will swing come May 16, the last place to go would be the assorted opinion polls.
Nearly half a dozen opinion polls the last few weeks have thrown up wildly differing trends. Three predict an outright victory for the Dravida Munnetra Kazhagam (DMK) while two call the elections in favour of the ruling All India Anna Dravida Munnetra Kazhagam (AIAIADMK).
The opinion polls and the reactions of the two primary Dravida parties also highlight the politically fractured   Tamil Nadu media landscape.
Two large television networks Thanti TV (the group also publishes the largest selling Tamil daily Dinathanthi with a circulation of 1.7 million), and Puthiya Thalaimurai (run by entrepreneur TR Pachamuthu) have given the AIADMK the advantage. 
While Thanthi TV puts the AIADMK marginally ahead of the rival, Puthiya Thalaimurai predicted a sweep giving Jayalalithaa 164 seats.
Earlier, when a joint poll by the third largest Tamil daily Dinamalar andNews7 channel predicted a DMK win, going against the grain somewhat, DMK chief Karunanidhi was quick to praise the paper's 'neutrality'. He pointedly added that outlets calling the election in favour of AIADMK were victims of the ruling party's coercion.
In the past, when DMK suspected that Dinamalar had taken a stand against the party, Karunanidhi would deride the paper for its Brahmin antecedents.
Two other surveys have backed the DMK's return to power. One conducted by Father Jegath Gasper, a catholic priest who runs an NGO and Goodwill Communications predicts DMK winning anywhere between 127 to 139 seats in an assembly of 240.
Gasper's NGO has in the past been received state patronage when DMK was in power. He was also a close associate of Karunanidhi's daughter Kanimozhi, and was once raided by the CBI in connection with the 2G scam.
In another poll, Cauvery News a little-known TV channel also claims the DMK-led alliance would win 37.9%  of the votes to the AIADMK's 32.9%.

 
Visitors to the channel's website cauverynews.tv would notice that its political coverage and election analysis is more or less on the lines of what the DMK would like to say and hear as part of its campaign.
Last Updated Mar 31, 2018, 6:32 PM IST