Sreesanth's debut in triangular contest of Kerala polls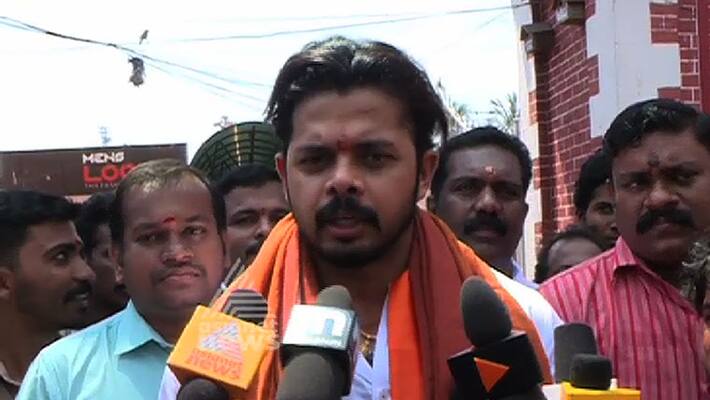 The electoral battle in Thiruvanthapuram assembly segment for the May 16 assembly polls has caught national attention with former Indian pacer S Sreesanth making his political debut as BJP candidate, pitted against ruling Congress led UDF and CPI-M headed LDF.
A fierce battle is on in the segment with Health Minister V S Sivakumar of Congress going all out to retain the seat. the presence of Antony Raju of Janathipathya Kerala Congress, an associate party of LDF, and Sreesanth has virtually turned the fight into a triangular one.
Though Sreesanth is a novice on the political pitch, the cricket star has quickly learnt the ropes, which is evident from his style of campaigning.       
A large number of people assemble along the roadsides to have a glimpse of Sreesanth as his campaign rolls on and children gather around him to take selfies.       
However, the fight is tough for all, as the highly politically conscious voters of the constituency that houses the state secretariat have never followed a similar pattern in voting and had sided with both UDF and Left in past polls.     
Government employees form a large part of voters in the segment.    
This purely urban constituency also comprises certain pockets of coastline areas carved out of erstwhile Thiruvananthapuram West and East segments.     
In the 2011 polls, Sivakumar, a former MP from Thiruvananthapuram, had won by a margin of 5,403 votes defeating his nearest rival V Surendran Pillai, of Kerala Congress (Scaria faction).    
Pillai is contesting this time as the Janata Dal(U) candidate of UDF at adjacent Neamom constituency.
He had quit KC(S) after he was denied a ticket to contest and moved to UDF after joining D(U) early this month.    
While Sivakumar banks on development initiatives, especially in the health sector in the last five years, LDF and BJP attack Congress for alleged corruption during the UDF regime.    
BJP aims to replicate its best performance it put in the polls to Thiruvananthapuram City Corporation in the last civic polls, in which they came second after LDF, pushing UDF to third position.
Last Updated Mar 31, 2018, 7:04 PM IST