Saffron party will 'fail' in 'this Dravidian heartland': Karunanidhi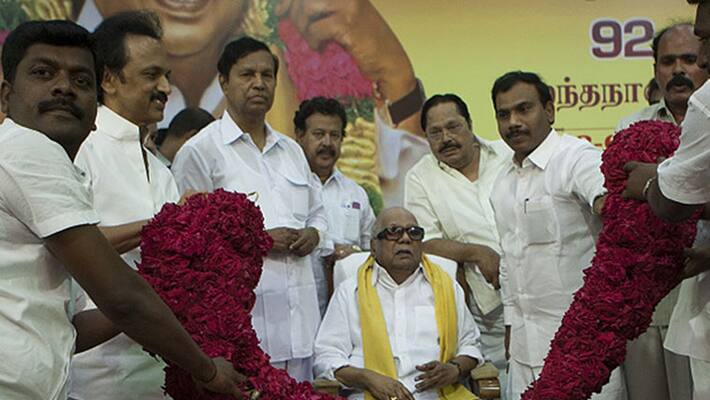 Having won 12 successive elections since 1957 and facing the 13th as the party's Chief Ministerial candidate, the 91-year-old DMK patriarch said this election has painted a different picture due to the sheer size of the contestants, with some of them even naming Chief Ministerial candidates.
     
In an interview to PTI, the veteran Dravidian leader said that the parties projecting themselves as alternatives to both DMK and AIADMK will not be able to split anti-incumbency votes and claimed they could affect the ruling party's prospect. Such a scenario will boost DMK's chances in the elections, he said.
        
"They will not be able to split anti-incumbency votes. They may cut into the AIADMK's vote bank," he said in response to a question on serious efforts among parties to emerge as an alternative to DMK and AIADMK and whether that would split anti-incumbency votes and affect DMK's prospects.
     
Karunanidhi said that people of Tamil Nadu were in a mood to send the ruling party packing and give DMK a chance.
    
"The single most dominant issue in the minds of the people is change of Government- AIADMK Government should go– DMK should take over the Government," he said when asked what was the dominant issue he perceived in the electoral battle.
      
Having made his electoral debut from Kulithalai in 1957, Karunanidhi said that each poll was different from the other.
     
"The difference depends upon the fighting parties and their leaders. The present election presents totally a different picture in view of the fact that too many parties are in the fray and some of them have named their Chief Ministerial Candidates," he said.
     
The social media also played a "considerable role now", the DMK chief, whose party is reaching to voters through all forms of media, said. 
To a question on BJP's efforts to gain ground in Tamil Nadu, Karunanidhi said that the saffron party will "fail" to do so in "this Dravidian heartland".
    
The Desiya Murpokku Dravida Kazhagam (DMDK) of actor Vijaykanth is in alliance with People's Welfare Front (PWF) and Tamil Maanila Congress. The PWF comprises Vaiko's MDMK, CPI(M), CPI and VCK. BJP is fighting the election in alliance with some small outfits in the state.
     
Asked about the financial implications of implementing certain promises in the DMK poll manifesto, Karunanidhi said: "We never say what is not possible or feasible. Please wait and see."
     
On the issue of changing candidates after releasing the list, much like the AIADMK, Karunanidhi claimed that such changes were made in concurrence with the persons involved. "DMK has changed party nominees only in few constituencies where it was felt absolutely necessary. Even this was done after discussions with the nominees already announced. It was a very smooth change-over. It will, in no way, affect the prospects of our party in the elections."

     
On AIADMK's promise of implementing prohibition, an issue that has taken centre stage in the polls, he said: "Tamil Nadu voters know very well that (chief Minister) Jayalalithaa is not sincere in her announcements" and added that her assurance will "not affect DMK," which has also made a similar promise.
 
Last Updated Mar 31, 2018, 7:01 PM IST