I have no ties with Italy: PM's jibe on Agusta scam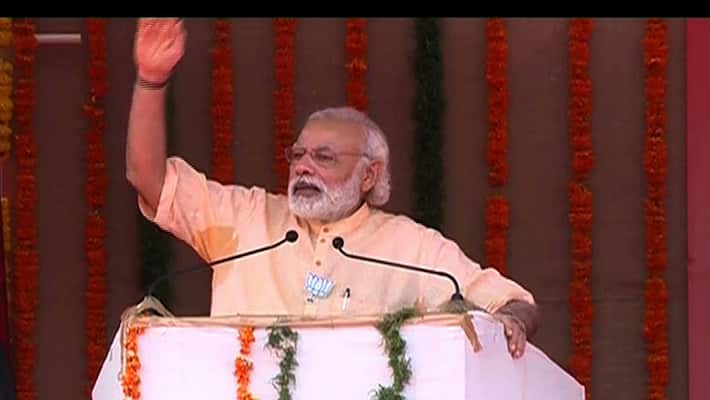 Breaking his silence on a judgement by an Italian court in Milan that "corruption" took place during the supply of VVIP choppers to India by the Anglo-Italian firm, Modi dubbed the deal a "chori" (theft).

The Prime Minister chose the AgustaWestland deal and the solar scam in Kerala to corner arch rival Congress in election rallies in Tamil Nadu and Kerala even as he said he was being attacked since he has "tightened the screws" on corruption.

Modi's veiled attack against Sonia came hours after a combative Congress President in New Delhi accused his government of "murdering" democracy and unleashing a campaign of "baseless allegations" against the opposition in the aftermath of the court verdict.

Without naming Congress or any leader of the party which has launched a counter attack on his government for dragging Sonia's name, he asked, "if the court in Italy has said that people from the last government in India have eaten money, why then are you troubling us here?"

"Does anyone of your relatives live in Italy? Does any of my relatives live in Italy.... I have not seen Italy. I have not been to Italy. Nor have I met anyone in Italy. If Italians have accused them what should we do?" Modi said.

"Those involved in helicopter chori, should they be punished or not? Should legal action be taken against them or not. Howsoever big they are, should action be taken against them or not? I want to know from the people of Tamil Nadu," he said in identical remarks at election rallies at Hosur and Chennai in Tamil Nadu.
Targeting Congress on corruption, he referred to alleged irregularities in 2G spectrum allocation and Coal auction. Modi said his government had taken so many steps to kerb corruption that "the corrupt are feeling nervous."
"For those who used to loot it is becoming difficult for them to survive. So whenever there are attacks against Modi, it means that Modi has tightened the screws," he said.
Last Updated Mar 31, 2018, 7:04 PM IST