WB polls: Trinamool Congress has an edge in once edgy Nandigram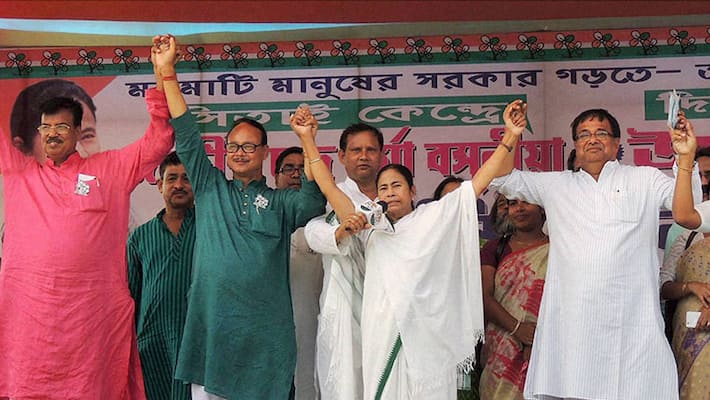 Nandigram, the spearhead of Bengal's anti-land acquisition movement which had played a crucial role in ousting the Left Front regime, is geared up for the May 5 Assembly poll in which Trinamool Congress candidate Suvendu Adhikari is pitted against CPI's Abdul Kabir Sheikh, a joint Congress-Left alliance candidate.
Nandigram in East Midnapore district, about 125 km from Kolkata, was known as a stronghold of the communists and from where a CPI candidate was mostly returned except in the 1996 and 2011 Assembly poll.
But the agitation against forcible land acquisition by the previous Left Front government led by Mamata Banerjee, had changed the political equation in the area. This time, too the TMC candidate has an edge over the Opposition candidate in the seat.
The LF government had planned to acquire 10,000 acres of land for a Special Economic Zone (SEZ) to be developed by an Indonesia-based company Salim Group for industrialisation.
The fierce agitation against forcible land acquisition had led to police firing in which 14 people had lost their lives in 2007.
BJP's Bijan Kumar Das besides SUCI(C) and Bharat Nirman Party candidates are also in the fray from this constituency, which has a 230541-strong electorate of which a sizable chunk is Muslim population.
The TMC riding on the anti-land acquisition movement had not only won the Assembly by-poll in Nandigram but also swept the panchayat polls in East Midnapore district.
TMC had won all the 16 seats, including Nandigram, in East Midnapore district in the 2011 Assembly poll which paved the way for the ouster of the Left regime.
Both Nandigram and the East Midanpore district as a whole have turned into a TMC bastion with the party sweeping the 2013 Panchayat poll and the Lok Sabha poll in the following year.
Last Updated Mar 31, 2018, 6:33 PM IST