Modi asks Keralites to think of future, not changing regimes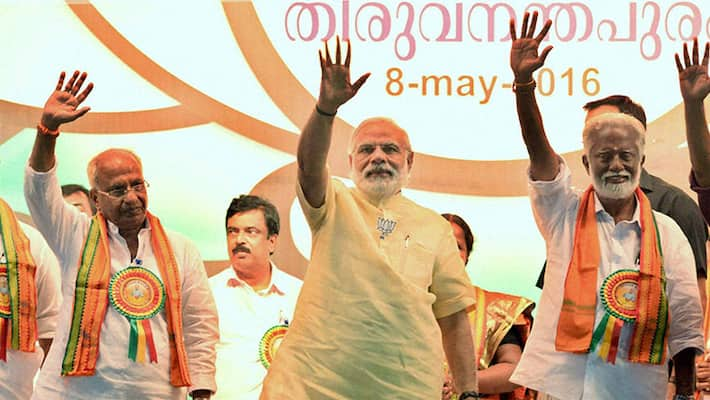 Prime Minister Narendra Modi asked the people of Kerala to think of their future rather than just changing the regimes every five years. Addressing the voter's of Kuttanad he said the previous governments in Kerala even failed to ensure potable water to the public. Continuing his tirade against the CPM-led Left Democratic Front (LDF) and the Congress-led United Democratic Front (UDF) the Prime Minister accused that they are covering each others corruption. They would get to know, that the governments must actually work for the people, only when they are defeated. 
"India will enter the 70th year of independence next year. All these years both the LDF and UDF have ruled Kerala. The state is surrounded by water, yet the governments failed to solve drinking water issues of people," Modi said. 
He asked whether they still wanted a government who failed to ensure basic needs. "It is for you to decide whether they must be elected or not. As far as corruption is concerned both the parties are in sync in the state," the PM said. 
The Prime Minister said that both the fronts want to taste power on rotation and this is why they are not exposing each other's corruptions. 
This was the second election rally attended by the Prime Minister in the state. 
Earlier during a campaign in Kasargod Modi said that both parties are waging compromise politics in the state. 
Modi will return to Delhi on Sunday night after attending another campaign at Thiruvananthapuram in the evening. He will be back in the state on May 11 to campaign in Thripunithura constituency. 
Last Updated Mar 31, 2018, 6:40 PM IST