Kerala Polls: Will KM Mani's victory saga continue?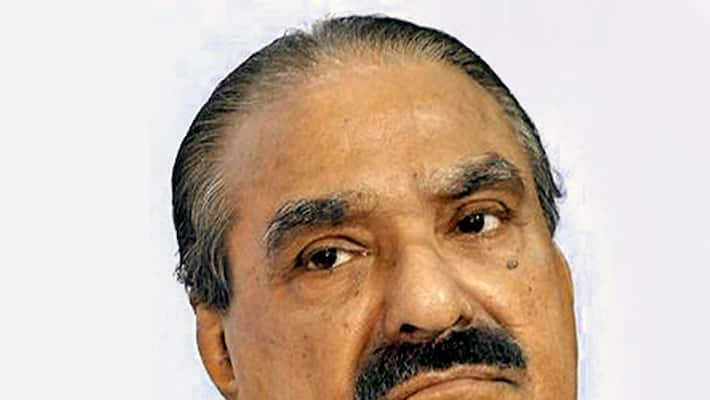 Mani, 83, one of the senior-most politicians of Kerala, also holds the rare distinction of celebrating the golden jubilee of his long legislature career in the state Assembly.
Beginning in 1965, when he won for the first time from Pala in Kottayam district, he has won 11 consecutive elections  - in 1967, 1970, 1977, 1980, 1982, 1987, 1991, 1996, 2001, 2006 and 2011.
A law graduate, Mani also holds the record of presenting the maximum number of budgets in the Kerala assembly and is considered a strongman in the UDF coalition, as the supremo of the partnership's third-largest faction - the KC(M). However Mani, who never tasted defeat in his poll career, faced an unprecedented political turmoil as Finance Minister last year and had to resign following charges against him in the bar bribery scam in November 2015.
Mani, who has rejected all charges as 'baseless', is now back in the poll arena in Pala constituency, which has stood by him for the last 50 years - ever since its inception.
Located in Central Travancore, Pala has a sizeable Roman Catholic population and is also a land of rubber farmers. Despite criticisms and allegations by his rivals, the political veteran seems to have no doubt about his victory this time as well, considering his long association with the people of the segment.
On the other hand, his main rival candidate, LDF-NCP's Mani C Kappan, a noted film personality, is hopeful of creating history in the constituency by giving a drubbing to Mani, who won the 2011 assembly polls by just over 5,000 votes. Kappan, gave a tough fight to Mani in 2006 as well. Kappan's confidence stems from the fact that he got 44.92% of total votes polled last time while Mani got 49.14%. 
The NCP leader said people desire a change and so would vote in favour of LDF in the coming polls.
NDA candidate N Hari is also in the fray, making the fight a triangular one. The NDA had earlier proposed former Union Minister P C Thomas, who heads a faction of the Kerala Congress, as its candidate to take on Mani. But Thomas later withdrew, citing personal reasons.
Political observers feel Thomas's decision to withdraw from the contest would go in favour of Mani. Being an agrarian constituency, the fall in the price of rubber is a major campaign issue in the constituency, with the opposition charging Mani with failing to do anything for rubber growers.
However, Mani has countered the allegations by listing out a number of schemes to help the farmers, especially the one that ensured ₹150 per kg for rubber.
Last Updated Mar 31, 2018, 7:02 PM IST