CPM  leader sneaks a peep while Achuthanandan voted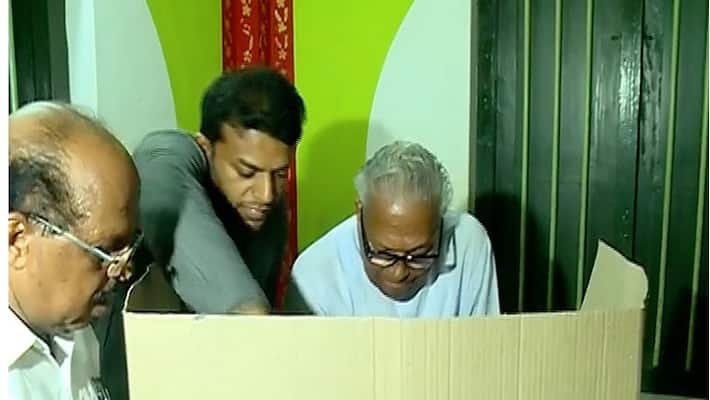 Communist veteran VS Achuthanandan's vote has sparked a controversy after visuals of the CPM candidate G Sudhakaran  in Ambalappuzha constituency taking a look allegedly to check to which candidate he voted for. Acuthandan's son Arunkumar is also in the visuals. 
Television cameras captured the visuals of Sudhakaran taking a peep while Achuthanandan exercised his franchise. Sudhakaran also gave an applause after the veteran voted. The United Democratic Front (UDF) and the BJP have approached the Election Commission pointing out the violation of election rules. District Collector R Girija has sought an explanation from the presiding officer after the complaints. 
When Achuthandan reached at the polling booth near his home in Paravur in Alappuzha by 4.30 pm on Monday, he was accompanied by his wife, son and daughter in law. When the CPM leader entered the booth, Sudhakaran also joined him, reports said. 
"Sudhakaran was doubtful about which candidate Achuthanandan would vote for," BJP district committee taunted. "That's why he checked it right."
 Sudhakaran defended himself and blamed the police and the government and criticized the media for raking up an unnecessary controversy. The CPM leader and former minister said that he violated no rules. He even blamed the CPM mouthpiece Deshabhimani for allegedly not supporting him in the issue. 
Last Updated Mar 31, 2018, 6:44 PM IST