In final emotional appeal, Jaya attacks 'poison tree' DMK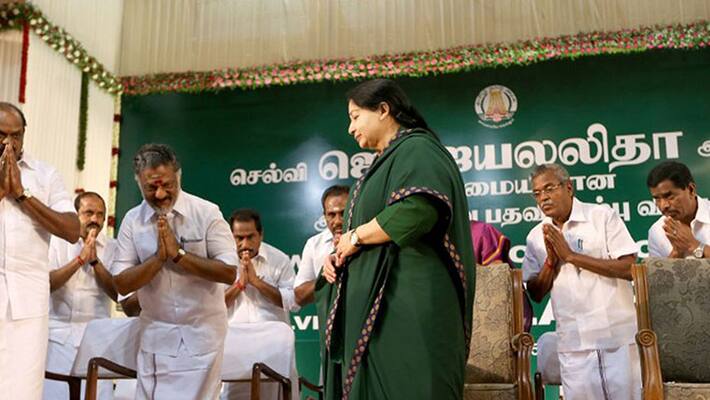 Days before Tamil Nadu goes to polls, state chief minister and All India Anna Dravida Munnetra Kazhagam (AIADMK) supremo J Jayalalithaa has written an emotional letter to her party cadres telling them that this election was going to decide the long-term social and political destiny of the state.  
Read more: TN Polls: When you can't tell opinion polls from party propaganda
She took several digs at the DMK-Congress alliance. "When lakhs of Tamils were killed in Sri Lanka, the DMK broke the alliance terming its association with the Congress as an 'undesirable friendship'. The two parties now have gone back to the public holding hands, calling themselves Siamese twins. Go out and tell voters that this alliance will spell doom for the Tamil of Sri Lanka," Jayalalithaa urged her cadres.

Jayalalithaa asked her party men to remind voters that the dynastic politics of the variety practised by the DMK was like a parasitic, poison tree which when deepened its roots and grew branches, would imperil individual liberty. "Remind voters of how till 2011, one family completely controlled all industry in the state - the media, film production, distribution, running cricket teams," she wrote.
 
Read more: Jaya takes up Cauvery, methane issues, says DMK 'anti-farmers'
"Voters would not have forgotten the memories of the ruling party's functionaries at the city, town, district and village levels extorting and terrorising people using muscle power. But it is important for you to go from door to door to remind them of those days."
She also asked them to spread the word about the plethora of welfare schemes rolled out and the future sops such as free mobile phones, loan waivers and two-wheeler subsidies announced in the party's manifesto.
"Please campaign and work hard keeping in mind that it's me, your dear sister who is contesting from each of the 234 constituencies,"she signed off. 
Last Updated Mar 31, 2018, 6:42 PM IST