Jayalalithaa sworn in as chief minister again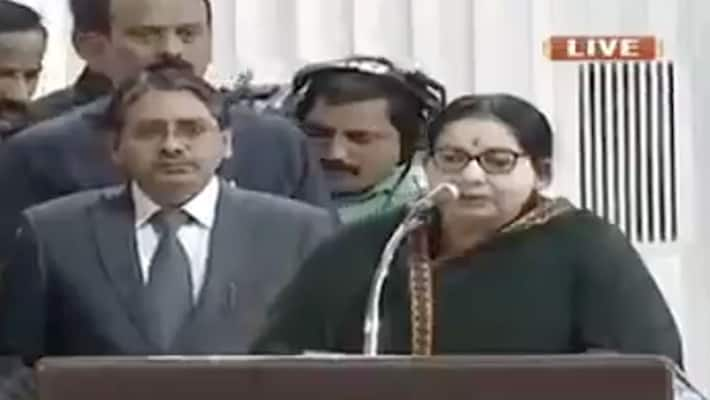 AIADMK supremo Jayalalithaa, who defied a 32-year history to return to power for a second consecutive term, today took oath as Chief Minister for the sixth time at a function in which DMK was also present, breaking a practice of the rivals keeping away from the other's ceremony.
    
The 68-year-old Jayalalithaa along with 28 others including her trusted lieutenant O Pannerselvam took the oath of office and secrecy in the name of God in Tamil that was administered by Governor K Rosaiah.
       
The AIADMK supremo retained 15 of her ministers who were in the previous cabinet and 13 new faces including three women.
    
Union Ministers Venkaiah Naidu, Pon Radhakrishnan, Lok Sabha Deputy Speaker and senior AIADMK leader M Thambidurai and Jayalalithaa's aide Sasikala were seated in the front row.
    
DMK treasurer M K Stalin, former DMK Ministers EV Velu, Ponmudy, party MLAs Sekhar Babu, Vagai Chandrasekhar and Ku Ka Selvam also attended the ceremony. For decades both AIADMK and DMK leaders had kept away from the oath-taking ceremonies of rivals.
     
Amid slogans of "Puratchi Thalaivi Amma Vazhga (Long live revolutionary leader Amma) by AIADMK supporters, Jayalalithaa stepped into the decorated Madras University Auditorium in her trademark green saree.
    
Slogans hailing the party chief also echoed the venue when she signed the documents after taking oath. Arrangements had been made for live telecast of the ceremony in many parts of the state with giant LED screens being placed at vantage points. While Jayalalithaa took oath alone, others were sworn-in in groups in a brief ceremony lasting less than 30 minutes.
    
At the venue, she was welcomed by top state government officials led by Chief Secretary K Gnanadesikan with a bouquet of flowers. Later, when Governor Rosaiah arrived she welcomed him with a bouquet and introduced her Cabinet colleagues in keeping with the protocol.
     
Ministers in the outgoing Cabinet Natham Viswanathan, Vaithilingam, newly elected MLAs, Lok Sabha and Rajya Sabha MPs of the ruling party were also amongst the audience.
     
The ministers retained were O Panneerselvam (Finance), Eddapadi K Palaniswami (Public Works), Sellur K Raju (Cooperation), P Thangamani (Electricity), SP Velumani (Municipal Administration), D Jayakumar (Fisheries), CV Shanmugam (Law, courts), KP Anbazhagan (Higher Education), MC Sampath (Labour), R Kamaraj (Food and Civil Supplies), C Vijayabaskar (Health), SP Shanmuganathan (Milk and Dairy), RB Udhaya Kumar (Revenue), KT Rajenthra Balaji (Rural Industries), and K C Veeramani (Commercial Taxes).
Those retained include ministers in the outgoing Cabinet such as Jayalalithaa's trusted lieutenant O Panneerselvam.
    
Others like CV Shanmugam, who had a stint during 2011-16 and were dropped later, have also found a place in the cabinet. The new faces are Dindigul Srinivasan (Forest), V Saroja (Social Welfare), KC Karuppannan (Environment), OS Manian (Textiles and Handlooms), Udumalai Radhakrishnan (Housing),R Duraikannu (Agriculture and Animal Husbandry), Kadambur Raju (Information), Benjamin (School Education), Vellamandi N Natarajan (Toursim), S Valamathi (Backward Classes and Minorities Welfare), VM Rajalakshmi (Adi Dravidar Welfare), M Manigandan (Information Technology), and MR Vijayabaskar (Transport).
     
The entire route from Jayalalithaa's Poes garden residence to the swearing-in venue was filled with cheering AIADMK supporters who showered rose petals on her vehicle as it whizzed past.
     
Musicians, including drummers, were seen playing instruments welcoming the AIADMK supremo as many party workers danced. Jayalalithaa left her residence at around 11.45 AM and arrived at the Madras University Centenary Building venue at 12 PM.
     
Her convoy wound its way through a sea of party supporters and general public who gave her a rousing welcome by gathering on both sides of the road. Traditional music like nadaswaram and Chendaimelam rented the air and the entire stretch leading to the venue was decorated with festoons and party workers kept waving party flags.
    
The function culminated with the customary group photograph of the Governor with the Chief Minister and her new cabinet ministers. Filmstars, including comedians, who campaigned for Jayalalithaa, were also seen among the audience. AIADMK supporters in parts of the state distributed sweets and greeted each other on the occasion.
Last Updated Mar 31, 2018, 6:59 PM IST