Jaya oath taking: Karunanidhi unhappy over Stalin's seating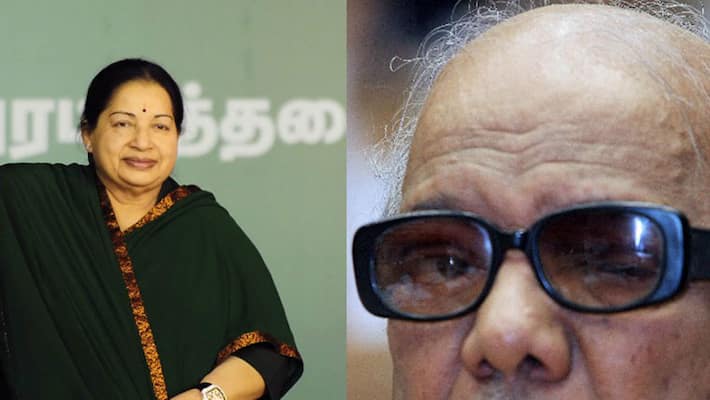 Jayalalithaa's swearing-in ceremony has run into controversy, with the DMK Chief Karunanidhi scorning at Stalin being made to seat in back-row. 
The gesture by arch rival DMK treasurer MK Stalin to attend Jayalalithaa's oath-taking ceremony today was touted as an attempt to dilute the political animosity.
While Stalin was made to seat at the back row, actor Sarathkumar was seated in the first row.
This is the second time Stalin, son of DMK patriarch M Karunanidhi, attended Jayalalithaa's swearing-in after participating in her oath-taking ceremony in 2001. As Chennai Mayor, he along with a few DMK leaders had attended the function then.
Stalin, attired in white shirt and dhoti, was today spotted seated in the 16th row at the Madras University Centenary Auditorium, venue of the swearing-in function.
Former DMK Ministers E V Velu and Ponmudy besides their party MLAs Sekhar Babu, Vagai Chandrasekhar and Ku Ka Selvam were also seated near him.
Yesterday, DMK supremo Karunanidhi had said his party would function as a constructive opposition in the 234-member assembly.
While the DMK secured 89 seats, its allies Congress eight and IUML one, the AIADMK alone bagged 134 seats in the May 16 polls. Elections to Thanjavur and Aravakurichi segments have been deferred.
Last Updated Mar 31, 2018, 6:40 PM IST