Celebrations kick start, wishes pour in for the winners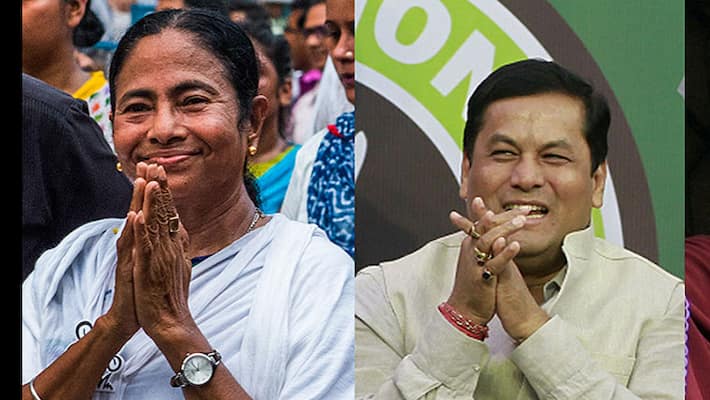 One of the first to congratulate the winners was Prime Minister Narendra Modi. He called up AIADMK leader J Jayalalithaa and Trinamool Congress chief Mamata Banerjee to congratulate them on their poll victories in Tamil Nadu and West Bengal, respectively

"Spoke to @MamataOfficial ji & congratulated her on the impressive victory. My best wishes to her as she begins her 2nd term," he tweeted.
    
"Had a telephone conversation with Jayalalithaa ji and congratulated her on her victory. Also conveyed my best wishes to her," Modi said in another tweet.
    
Despite an adverse exit poll prediction, the AIADMK sailed through to make an easy win. Announcing her win, Mamata Banerjee of the Trinamool Congress said that the TMC wanted to "purge" the Left from West Bengal and now succeeded in that task.
Modi also called up the BJP chief ministerial candidate, Sarbananda Sonowal, in Assam, where the party won 78 out of 126 seats. "I spoke to @sarbanandsonwal & congratulated him for the performance of the party & the efforts through the campaign. @bjpassampradesh," Modi tweeted. He also wished LDF leader V S Achuthanandan for his party's win in Kerala. 
Union Home Minister, Rajnath Singh also wish the Tamil Nadu Chief Minister: "Congratulations to Tamil Nadu CM Dr. J Jayalalitha on her victory in assembly polls. My good wishes to her on her second consecutive term," he said in a tweet post.
"Congratulations to Selvi J. Jayalalitha and Mamata Bannerji for retaining power in TN and WB," former Karnataka Chief Sadananda Gowda tweeted. In another tweet post, he said: "Important state of North East Assam captured. Congratulations to people of Assam, who have blessed BJP with thumping majority."
Former Union Minister Shashi Tharoor took to Twitter to congratulate BJP for its historic win in Kerala. "Called @BJP4India leader O.Rajagopal to congratulate him on his victory in Nemom. Historic win a tribute to his 50 years of political efforts," he said.
In another tweet he said: "As Thiruvananthapuram MP, I agreed w/new Nemom MLA O.Rajagopal that we must work together4the constituency's development&pledged co-operation."
Andhra Pradesh Chief Minister N Chandrababu Naidu today congratulated his Tamil Nadu and West Bengal counterparts J Jayalalithaa and Mamata Banerjee over the victory of AIADMK and All India Trinamool Congress in the Assembly elections. He also applauded the BJP for the "historic win in Assam."
Last Updated Mar 31, 2018, 6:33 PM IST