Congress-mukth Kerala, LDF storms back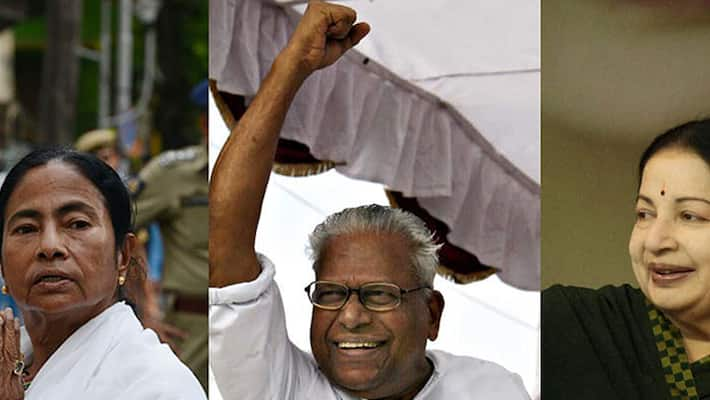 "It's a Left wave in Kerala," a cheerful VS Achuthanandan, CPM veteran, told media persons at Palakkad just a few minutes ago. "It is going to be a stern verdict against corruption (of the UDF government)." 

The Left Democratic Front (LDF) activists have started celebrations in Kerala as the state is clearly heading for a regime change. When the counting entered the second hour, the LDF had crossed the half way mark where the Front leads.
 
Meanwhile, it is also clear that the lotus will bloom, finally. The veteran BJP leader and former Union Minister O Rajagopal has been leading continuously and have established a formidable 9,000 votes. The BJP has put up a good fight, coming in the second position in nearly 8 seats for the first time in the history of Kerala.
Watch video: As LDF returns to power, first analysis by Asianet News Editor M G Radhakrishnan
Confounding pollsters in Tamil Nadu, Amma is on the verge of a grand comeback as per the early trends in counting of votes for 232 Assembly constituencies. The state went to booths on May 16 with 3700 candidates. The ruling party AIADMK is leading in 117 seats while its rival party DMK is leading in 71 seats.
Amma was seen leading in her constituency, R K Nagar by over 5000 votes against her DMK rival Shimla Muthuchozhan.
If current trends do come true and Amma comes to power  it will be the first time in 27 years that a party has returned to power in Tamil Nadu. 
Karunanidhi, who is leading in his constituency Tiruvarur, is fighting to set a record for the 13th time. However, actor turned politician Captain Vijaykanth continues to trail in Ulundurpet. 
Mamata Banerjee, meanwhile, is sweeping the floor with the Left-Congress jote rag. Nothing seems to stop the TMC juggernaut as early trends show the party all set to make a grand comeback with over 200 seats.
The CPM heavyweights, meanwhile, are scrambling to win their own seats. CPM's chief ministerial candidate, Surya Kanta Mishra, is oscillating between leading and trailing in his seat, Narayangarh. Ashim Kumar Dasgupta, once a key member of the Left government's cabinet in the state, is trailing from his constituency, Khardaha.
The BJP is rocking in West Bengal. Riding on its glamour quotient of actress candidates such as Roopa Ganguly and the firebrand Locket Chatterjee, the BJP is showing a lead in 6+ seats.
In Assam, current trends point to BJP winning a landslide victory, as its leading in 70 seats now. BJP's chief ministerial candidate Sarbananda Sonowal is leading in Majuli and former Congress strongman Himanta Biswa Sarma, who is contesting on the BJP ticket from Jalukbari, is also in the lead. Chief Minister Tarun Gogoi is also leading in Titabar but his party could concede power to the BJP if the initial trends convert into seats.
Last Updated Mar 31, 2018, 7:04 PM IST