TN Polls: DMK woos north Indians with Hindi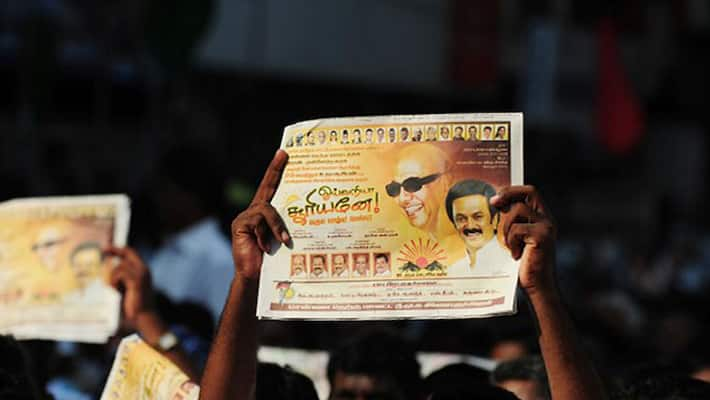 "Hamare Egmore kshethr key ummidwar Shriman K S Ravichandran (DMK) ko aap apna bahoomoolya math dhramuk ka chunav chin ugtha suraj par apne mohar lagakar unhey bari bahumath sey vijayee banaye."   
A message like this in Hindi would usually sound bizarre in Tamil Nadu where political parties often descend into slanging matches to showcase their love for the Tamil language.
But the election season has thrown up such unexpected declarations by various parties in a bid to woo north Indians who have lived here for years.   
The quote which translates as "Please vote for DMK's 'rising sun' symbol and ensure victory for our candidate from Egmore, Mr K S Ravichandran" in chaste Hindi is straight from campaign materials like billboards and pamphlets of DMK's candidate Ravichandran from Egmore.   
A sizable chunk of North Indians, including the Marwaris, have been living in this downtown constituency for ages.    
Not only DMK, but candidates of other parties also do propaganda in Hindi here and other parts of the state, which have a significant presence of North Indians. For example, the garment export town of Tirupur too has the presence of people from north Indian states, who have settled down in Tamil Nadu a long time back.   
It is not just Hindi, but other South Indian languages like Telugu, Malayalam and Kannada also come into play.    
In Avadi constituency here, supporters of AIADMK candidate Ma Foi Pandiarajan are distributing pamphlets in Telugu, where a sizable section of the electorate speaks the language.
In Hosur, Gummidipoondi and Tiruttani constituencies with large sections of Telugu speaking people, parties make use of the language for the campaign. Also, several pockets of Erode, Dharmapuri and Krishnagiri districts have a presence of both Kannada and Telugu speakers.   
Similarly, parts of Coimbatore and Kanyakumari districts that share borders with Kerala have large sections of Malayali speakers and parties make use of the language there.
Last Updated Mar 31, 2018, 6:54 PM IST