BJP hopes to make history in historical town of Vedaranyam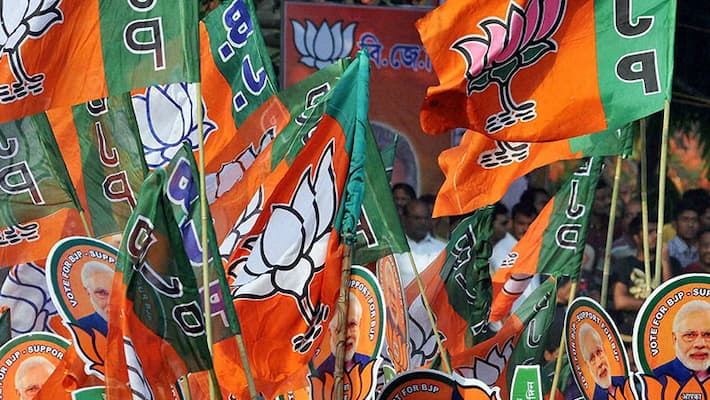 Having fielded a three-time former DMK MLA as its candidate here, BJP is pinning its hopes on this coastal constituency, where the 'salt satyagraha' was held during the freedom struggle, to make entry in Tamil Nadu Assembly in the May 16 elections.
       
BJP has fielded S K Vedarathinam, a popular businessman of this town, who joined the party last year after resigning from DMK and is confident he would help the lotus bloom.
      
Vedaranyam, a major salt-producing centre in Nagapattinam District, has its place in the country's freedom struggle as it was here that C Rajagopalachari in 1930 staged the 'salt sathyagraha', south's equivalent of Dandi march undertaken by Mahatma Gandhi against imposition of tax on salt by the British.
Besides its vast salt pans, the town, located about 350 kms from Chennai, is also known for prawn cultivation and fishing.
       
It is witnessing a multi-cornered fight involving Vedarathinam, ruling AIADMK's OS Manian, Congress candidate PV Rajendiran, DMDK nominee Vairanathan and PMK's Usha Kannan.
     
Vedarathinam, who scored a hat-trick of wins from the constituency from 1996 as a DMK nominee, lost to AIADMK's NV Kamaraj in the 2011 polls.
    
A businessman, Vedarathinam is popularly known as "SK" among the locals. He was a strongman of DMK and got elected to the Assembly in 1996, 2001 and 2006 from Vedaranyam.
        
He joined the BJP last year and has got the party ticket to try his luck for a fifth time. AIADMK has dropped Kamaraj, giving a second chance to Manian who lost to Vedarathinam in 2006. Congress, which is contesting the polls in alliance with DMK, has nominated P V Rajendran, an industrialist.
       
Political analysts feel that keeping in mind the popularity and winning streak of Vedarathinam, BJP had chosen Vedaranyam as among the places for Prime Minister Narendra Modi's electioneering in the state to give a strong push for the party's goal of making a mark in the polls. 
After failing to rope in its former allies such as DMDK and PMK, which were part of the rainbow alliance stitched by it for the 2014 Lok Sabha polls, BJP is contesting the coming elections with a few minor parties and Vedaranyam is among some of the constituencies where it fancies its chances.
Modi earlier this week addressed an election rally at Thethukodi locality here and highlighted his government's schemes for the welfare of farmers and others.
      
He also expressed joy on being informed that he was the first Prime Minister to visit this part of Tamil Nadu.
      
Some of the major issues in the region include road development between Thiruthuraipoondi and Vedaranyam, setting up of a harbour in Aarukattuthurai and basic infrastructure for fishermen community who form a major chunk of the 1.80 lakh voters in the constituency where Vanniayr and Thevar communities hold sway.
      
Congress candidate Rajendiran is also not a novice in electoral politics and had been elected from this constituency in 1989 and 1991.
      
PMK's Usha Kannan hails from Vanniar community and is banking on the community votes to help her sail through.
      
Vedaranyam has a total of 1.80 lakh voters comprising 88,869 men and 91,369 women.
Last Updated Mar 31, 2018, 6:42 PM IST